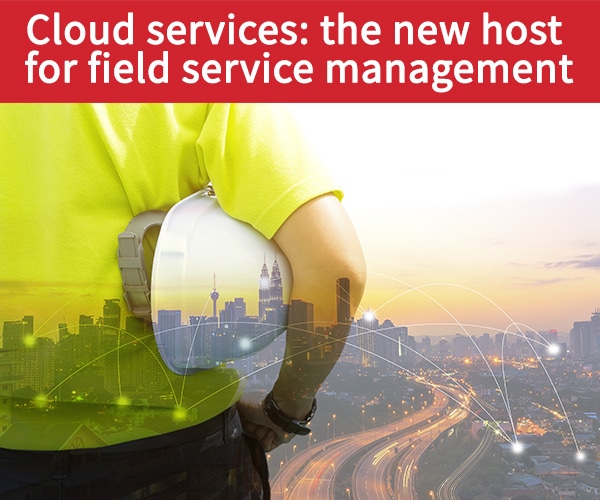 Work Order Management
Big Data
Technology
Cloud services: the new host for field service management
Xavier Biseul
Aside from economic advantages, the cloud unites the entire chain of information, from work order requests to billing. At the same time, cloud paves the way for artificial intelligence and the Internet of Things (IoT).
 
The word is out about the benefits of cloud. Unlike with an on-premises software-licensing model, the company isn't responsible for infrastructure management, server security, data back ups, or software deployment and maintenance. Instead, the software vendor, working in software-as-a-service (SaaS) mode, provides all this based on a monthly or yearly subscription.
 
Another up side is that cloud subscribers get the latest version of the application on all their fixed or mobile devices (e.g., laptop, tablet, and smartphones). That's because, the cloud-based SaaS approach is all about the user instead of their workstation.
 
In terms of the financial situation, the cloud-based SaaS approach shifts costs from capital expenses (CapEx) to operating expenses (OpEx). This is appealing to finance departments that typically prefer to avoid investing in capital assets, such as servers, routers, and switches that depreciate.
(h2) Enhanced data protection
The last barrier to cloud adoption—security—is also crumbling. Many companies have realized that digital specialists are better at protected data. These data protection specialists have made significant investments in equipment and personnel that would be too costly for most companies. Also, the new European regulation on the protection of personal data (RGPD) further reinforces the SaaS provider's data security obligations.
 
For example, the Praxedo field service management solution is hosted on dedicated servers provided by OVH. The first European cloud provider not only complies with the RGPD, but also meets the requirements of recognized security standards, including PCI-DSS and ISO/IEC 27001, SOC 1 Type II and SOC 2.
(h2) The cloud allows information to flow
Beyond the technical and economic gains, cloud solutions also offer organizational advantages. By centralizing data, a SaaS platform allows for streamlined information flow among the customer, operations center, and field personnel.
 
With all types of users accessing the same dataset, field service coordination is less prone to error. Using their mobile device, the technician has an up-to-date schedule and is notified when changes occur. In the same way, the customer is kept informed of the status of the job request.
 
(h3) Paperless processes
Work order digitalization also improves customer satisfaction by increasing the all-important "First Time Fix Rate". The field technician has all the relevant information—work order history, technical documentation—to make a diagnosis. If that's not enough, the technician can consult with service center experts using chat, phone or videoconferencing. Finally, we can say goodbye to the days of paper-based records!
 
(h3) Reduced billing time
With digital records management of all work order records and reports, all information can be centralized. This zero paper approach eliminates double entry errors while ensuring traceability throughout the work order life cycle, from the request for assistance to completion. Also, the billing period can be reduced considerably. Once the job is closed, the information is automatically entered into the accounting system, which generates the invoice and sends it to the customer.
(h2) Artificial intelligence: Part of the digital picture
The cloud is a prerequisite for accessing new innovative services provided by artificial intelligence (AI) and the Internet of Things (IoT). AI is so powerful it is expected to take work order management to a whole new level. In fact, Gartner, in its 2017 Magic Quadrant Field Service Management, predicts "by 2020, 10% of emergency field service work will be both triaged and scheduled by artificial intelligence.
 
Did you know that some planners are already using AI? In just seconds, the Praxedo SmartScheduler calculates the optimal route given the business constraints, traffic conditions, and emergencies. It does this using the Praxedo proprietary meta-heuristic algorithm, a form of AI.
 
(h3) Chatbots available 24/7
Chatbots can also improve the customer experience by complementing the usual communications channels, such as call centers, email, SMS, and live chat. Available 24/7, these agents can provide front line support by answering FAQs. Failing that, chatbots can triage requests and direct users to qualified support staff, or even schedule a work order.
 
In the not too distant future, this type of virtual assistant will also support field technicians. Appointment reminders, work order documentation, and assistance with diagnosing problems will be available on their mobile device. Using natural language, technicians will query powerful knowledge bases in the same way as they currently consult with experts at the service center via videoconference.
(h2) IoT to prevent breakdowns
IoT is also related to AI and cloud. The performance and health status of equipment fitted with sensors—temperature, humidity, vibration or pressure sensors—can be monitored in real time. This allows operators to extend equipment service life by improving operating conditions and preventing breakdowns.
 
(h3) Perform predictive maintenance
IoT also paves the way for predictive maintenance. Analysis of equipment-related data can identify and anticipate abnormal wear that is likely to cause a breakdown. This way, spare parts are only replaced when needed rather than for precautionary reasons. That's how predictive maintenance optimizes spare parts management and reduces machine downtime.
 
In this way, IoT makes it possible to service equipment "just in time". The maintenance provider triggers a work order only when needed, not too soon, not too late. This after-sales service dream will soon be a reality thanks to powerful AI, IoT and cloud technologies.