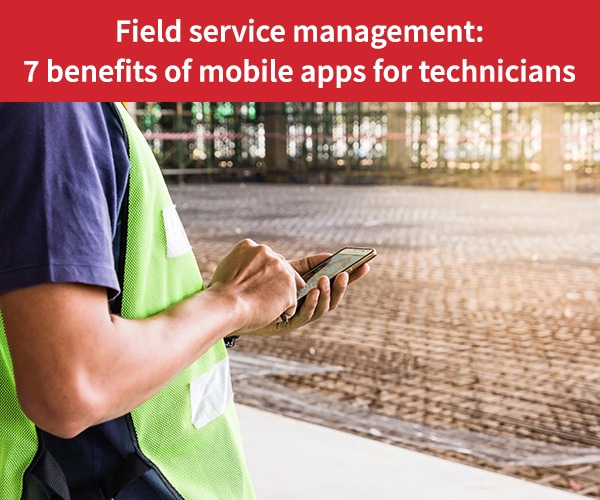 Field Service Management
Mobility
Technician
Mobile App
Field Service Software
field service management software
fsm
field service technician
7 reasons to give field service technicians a mobile app
Justine Arscott
As companies increasingly shift towards digital operations, service providers must also adapt by adopting paperless operations to manage their field technicians. To effectively transform, service providers need to adopt field service management software, which allows them to efficiently manage service schedules and monitor service activities. Furthermore, a mobile app for field service technicians can be used to put these capabilities directly in the hands of your team on the ground.
It is important to note that providing technicians with a mobile business app can offer several benefits for companies that manage employees on the move.
If your company is still relying on paper-based operations, here are seven compelling reasons to switch to digital:
Give technicians all the information they need
As a supervisor or manager in a service company, your number one priority is customer satisfaction, whether you're providing regular maintenance or emergency services. To ensure customer satisfaction, you must ensure your field technicians arrive with all of the information required for successful service from their first visit with the customer.
 
When relying on paper work orders, important information can easily be misplaced, forgotten at home, or even damaged by accidents like a coffee spill. To prevent these issues, it's recommended to provide technicians with all the necessary information about customers and equipment directly on their smartphones. This can be accomplished through a mobile app that allows technicians to access customer information, site access details, contact information, and service history of affected equipment all in just a few clicks.
Increase success rates
Utilizing a mobile field service management app can greatly enhance your ability to respond to customer needs, whether you are providing installation, troubleshooting, or maintenance services. In order to meet contractual commitments for guaranteed service and recovery times, it is crucial to maintain efficiency.
A field service management app can improve speed and efficiency by allowing dispatchers to easily manage schedules and prioritize emergency service calls in between maintenance jobs. Dispatchers can quickly send the necessary information to the appropriate technician, enabling them to arrive on-site quickly and resolve the customer issue without needing to make multiple trips.
By properly assigning service calls to the appropriate technician at the right time, you can create the ideal conditions for technicians to successfully complete jobs during their initial visit, which is a major contributing factor to customer satisfaction.
Streamline route planning
The route planning component of field service management software enhances the efficiency of route planning and enables better coordination and organization of service appointments. This is achieved by considering factors such as customer and technician locations as well as travel times, ultimately resulting in reduced fuel and maintenance costs for your vehicles.
In addition, more efficient scheduling allows you to prioritize service calls, including last-minute emergencies, in a more logical manner.
By using a mobile application, like the one offered by Praxedo, technicians can even schedule their own service appointments with ease. They can find nearby jobs if they have a break in their schedule or complete a job faster than expected by simply clicking a button. When technicians can view pending service calls near their location and select one to complete, it portrays a more responsive image to customers, while also increasing productivity.
Better manage spare parts stocks
Certain field service management applications can save technicians a significant amount of time by enabling them to check spare parts inventories from their smartphones and list the parts they used during the service call. Additionally, software is capable of monitoring inventory levels and re-ordering parts when necessary to guarantee that stocks are always available to technicians.
Ensure all service calls are billed
Service companies often struggle with un-billed service calls, which can go unrecorded and cause accounting discrepancies. In some cases, emergency repairs for major customers might be conducted by a branch office without being documented for later invoicing.
Another issue arises when technicians neglect to list the spare parts they use during service calls, leading to accounting errors at the end of the year.
Utilizing field service management software provides a solution to these challenges, enabling companies to manage field activities and technicians through a mobile app. With software, each service call and part used is tracked and updated in real-time, ensuring that administrative teams can accurately invoice customers for the completed work, ultimately avoiding any financial losses.
Track key performance indicators
Field service management software typically includes features that enable users to define and track metrics related to productivity, profitability, and other performance indicators. This data empowers company and service managers to identify strengths and weaknesses among their operators based on factors such as technician, geographic region, customer, and service type.
Managers are provided with intuitive dashboards that offer critical insights into the performance levels of their teams, making it easy to pinpoint areas in need of improvement and optimize service management operations.
Increase customer satisfaction
On the service side of the business, service calls are billed as soon as technicians complete them. Because technicians are using a mobile app, their field service reports are sent directly to your information system. All of the relevant data is stored in digital format in a central, secure location so admin staff can create invoices and send them to customers within one day of the service call.
 
On the customer side, thanks to the forms technicians completed on their mobile app and emailed at the end of the service call, customers have detailed information about the work carried out on their equipment. They know which parts were used, and they have before and after photos that provide proof of the work completed and justification of the service costs. In addition, some field service management software, including Praxedo's, offers a customer portal where you can enter service requests directly into the software without having to go through a call center.
As the world becomes more digital, companies must adapt by embracing paperless operations to manage their field technicians. This is where field service management software and mobile apps come into play. Not only can this technology provide technicians with all the information they need for successful service, but it can also increase success rates, streamline route planning, better manage spare parts stocks, ensure all service calls are billed, track key performance indicators, and ultimately increase customer satisfaction. By utilizing these tools, service providers can optimize their operations, improve their responsiveness, and enhance their customer service, ultimately leading to greater success in the digital age.
To learn more about how field service management software can help transform your field service operations, read our latest whitepaper on Field Service Management best practices.  Download now
Or get in touch with a member of our team for your own personalized demo