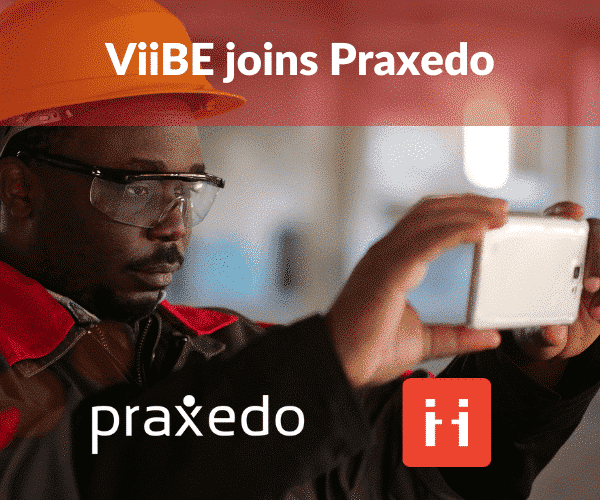 Praxedo announces acquisition of video assistance company ViiBE
Paris, April 25, 2023 – Praxedo, the French leader in field service management software, today announces the 100% acquisition of ViiBE Communication, a French video assistance solution.  The acquisition, a first for Praxedo, will enable the company to enhance its SaaS field service management offering with video assistance technology.
Praxedo, the upward trajectory of the French pioneer in SaaS field service management software 
Founded in 2005 by Jean de Broissia and Pierre Lavigne, Praxedo has established itself as a prominent player in the highly competitive field service management software industry. Its position is globally recognized through its continued listing in the prestigious Magic Quadrant by American firm Gartner since 2016, for field service management solutions.
Over the years, the company has innovated and demonstrated the value of its software in the demanding market of field service management. After experiencing consistent growth between 2005 and 2017, Praxedo achieved a milestone in 2018 with over 25% growth in a single year. Since then, it has maintained this momentum with an average annual growth rate of 25% to 30%, resulting in over 1,300 customers at the end of 2022.
At the same time, the company's workforce has grown from 35 employees in 2017 to over 180 at the beginning of 2023, with recruitment in all departments, including R&D, Product, Sales, and Marketing, both in France and internationally. Praxedo already had foreign subsidiaries in the German, Spanish, English, and Canadian markets and established a new subsidiary in Chicago in April 2022 to expand its activities in the United States. This new presence in the North American market followed the company's investment efforts last year, which resulted in the investment fund MBO+ becoming a minority shareholder.
Praxedo's next step for external growth is the acquisition of ViiBE Communication, a specialist in video assistance solutions.
ViiBE Communication, the expert in video assistance solutions
ViiBE Communication, another forward-thinking company from the French software world, was founded in 2017 by Marc Prempain and Charles Demée.  ViiBE is a video assistance platform devoted to after-sales service and technical support, enabling users to quickly resolve complex technical problems while avoiding unnecessary travel for experts and reducing the operational costs of work orders.
The solution can be accessed on any operating system and used on any type of fixed or mobile device without requiring a download. As an open-source solution, ViiBE can be connected to a wide variety of platforms, including CRM, EAM, FSM, CCaaS, UcaaS, and Ticketing solutions.
In a post-Covid world, ViiBE has fully sustained its mission by facilitating remote technical collaboration through cutting-edge collaborative and interactive technology. The company has developed an ecosystem of users in 14 countries and has attracted big names from the worlds of retail, energy, and insurance.
In 2021, ViiBE was presented with the prestigious Frost & Sullivan "Europe Enabling Technology Leadership Award" for the best assistance solution in Europe.
ViiBE and Praxedo, highly complementary
ViiBE and Praxedo's field service management solution are highly complementary. Field technicians can use ViiBE to connect in real-time with experts at their service center, enabling them to remotely troubleshoot complex or unfamiliar issues they encounter while using equipment on-site. 
This remote collaboration allows them to find a solution to the problem and prevents the field resource from having to schedule a second visit. 
For Marc Prempain, co-founder of ViiBE, who just joined the Praxedo team, "ViiBE's strategy was always founded on interoperability, to make video assistance available on any platform. ViiBE shares this vision fully with Praxedo, which also has a wide range of connectors with the ERPs on the market. It was an obvious choice for us to join Praxedo, to integrate our video assistance technology into a comprehensive field service management platform with over 50,000 daily users to date."
Jean de Broissia, co-founder and CEO of Praxedo, agrees: "We had been looking since last year for a video assistance technology that would enable us to enhance our value proposition and optimize the quality of the work orders carried out by our customers. ViiBE fulfilled all of our functional expectations, as well as a real request from our customers for more interactivity in the work order process. Today, there are major challenges related to remote collaboration for service companies: maximum responsiveness to customer requests, reduction of unnecessary trips, first-call fixes, customer satisfaction, etc. The acquisition of ViiBE will enable Praxedo to bolster its offering with a cutting-edge technology that has already proven its operational effectiveness in the field."
ViiBE's technology will be highly beneficial for Praxedo users, as it will enable them to significantly improve one of the most critical performance indicators in field service management – the first-call fix rate. This not only enhances operational efficiency but also reduces the carbon footprint of service companies, resulting in savings on fuel consumption for service call vehicles.
About Praxedo
Praxedo—founded in 2005 by Jean de Broissia and Pierre Lavigne—offers specialized software designed for field service collaborators such as technicians, auditors/inspectors, and more. The SaaS platform optimizes field service management through schedule optimization, electronic reports on mobile, real-time data transmission, tracking of parts used, and more. 
Praxedo now has over 1,300 customer companies, of all sizes and from all industries, and has established itself as the French leader in field service management solutions. The company is also developing its international activities, in particular in Germany, Spain, the United Kingdom, Canada and the United States. 
Since 2016, the company has enjoyed strong international recognition, due to its appearance in Gartner's prestigious Magic Quadrant dedicated to "Field Service Management" solutions. 
About ViiBE Communication 
Founded in 2017 by Marc Prempain and Charles Demée, ViiBE Communication offers a comprehensive video assistance, knowledge management and ticketing platform. 
ViiBE is designed for technical and industrial support and assistance services, and can be easily accessed on any type of operating system and on fixed or mobile devices without the need for download.
ViiBE currently has around thirty customer companies, primarily large accounts, with users in 14 countries.