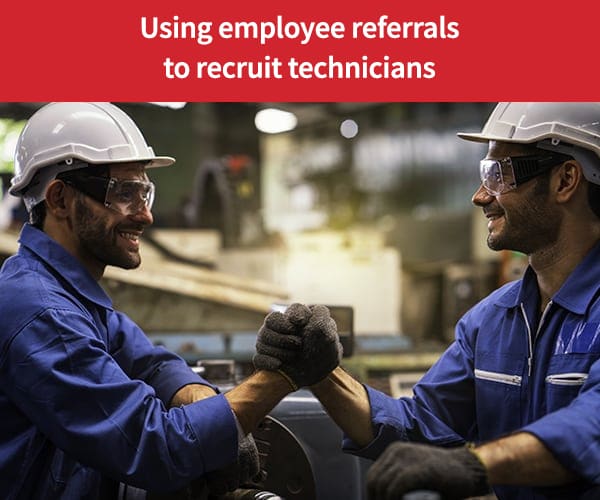 Technician
Maintenance
Recruiting
Employee referrals: a proven way to recruit maintenance technicians
Xavier Biseul
As service companies face the challenges of recruiting maintenance technicians, more and more of them are relying on peer recommendations. However, this approach must be carefully managed to avoid problems.
 
Last spring, the job market collapsed as people were confined to their homes. According to a study by the Randstad Group, job offers dropped in half. However, one profession was still in high demand: maintenance technician. In fact, this profession withstood the health crisis the best, with "only" a 29% drop in positions advertised.
 
This data shows the scarcity of maintenance technicians in the labor market. To attract individuals with these rare skill sets, employers must do everything possible, including using more channels, to find people. In addition to innovative approaches such as artificial intelligence and virtual reality, there is one classic and proven method: employee referrals.
Employees have a vested interest in recommending good candidates
The idea is that your friends' friends are also your friends. On paper, employee referrals sound perfect. Who better than an employee who already knows their company and their network of friends to make a match between supply and demand? Because they're personally engaged, employees won't risk recommending a poor fit. They'll ensure the profile of the person they're recommending fits well with the company's expectations and values.
 
Employee referrals help companies get quality applications in a way that's less expensive than working with recruiting forms or even posting ads on job sites. Above all, this peer-to-peer recommendation system gives companies access to a hidden set of resources that can't be accessed through traditional recruiting channels: people who are employed and not actively looking for a new job.
 
Soft skills are taken into account
Employees are also more aware of whether their contact has the behavioral skills that are essential to the maintenance technician job. Soft skills, such as the ability to listen and to manage stress don't appear on a resume.
 
Software platforms such as Keycoopt System, Linkeys, Kukatree and Myjobcompany are available to help companies industrialize the process. The software distributes job postings internally so employees can recommend someone or apply themselves. With this approach, companies can combine internal employee mobility and referrals.
Watch for the greed factor
To encourage employees to become recruiters, referrals are usually accompanied by a bonus that can vary from a few hundred to a few thousand dollars, a gift card or a weekend getaway.
 
The amount of the bonus is directly related to the difficulty of finding a candidate with the right profile. Generally, half the bonus is paid when the employment agreement is signed and the balance is paid when the probationary period ends.
 
If bonuses are too high, some HR experts warn that employees could become bounty hunters. Referrals should not become a new source of income for people.
 
This shift in employees' thinking could lead them to recommend everyone in their address book, telling themselves that at least one of their contacts will be hired. Greed can also give rise to unhealthy competition among employees and lead to internal conflicts. As a result, employers must put safeguards in place to ensure employee referrals are used in a measured and qualitative way.
 
Referrals can't be seen as cronyism
Frist, the employee must justify the recommendation. Perhaps the employee went to school with the person or worked with them for long enough to assess their professional and behavioral skills. The person can't just be a social media contact.
ways. The employee shouldn't hide their knowledge of management challenges or a toxic corporate culture.
 
Another risk: confusion between a referral and cronyism. The employee must recommend the person based on an objective assessment of their skills with no exaggerations, no matter how close they are as friends. This transparency goes both ways. The employee shouldn't hide their knowledge of management challenges or a toxic corporate culture.
Maintain focus on a building a diverse workforce
The main danger of employee referrals is the risk of cloning. Employees will have a natural tendency to approach people who have the same technical diploma as they do, have taken the same certification courses or come from the same type of background. Companies risk ending up with employees that have the same profile.
 
This homogenization weakens diversity, a factor that's known to improve creativity, the social atmosphere, team unity and, as a result, company performance. This alone is a reason to treat employee referrals as one of several recruiting tools and not the only one.
 
In addition, an employer who attracts technicians that have all worked at the same competing company may be accused of poaching or unfair competition, especially if employees have a non-compete clause in their employment contracts.
 
Establish a clear set of rules
To avoid these issues, the employer must set rules for employee referrals and explain the reasons behind them. Who can refer whom? Some companies bar referrals of family members as this could damage working relationships. Other companies limit the scope of their referral program to a one department. For example, maybe only maintenance technicians are allowed to make referrals.
 
This is often a mistake. An accountant or salesperson could easily have a very good technician in their personal or professional circle. Excluding them from a bonus program also creates frustration. Finally, allowing all employees to participate is more likely to result in diverse candidate profiles.
 
Companies also need to communicate about the referral program at all stages. The program launch must be based on a communications plan that includes web and social media posts and emails. Employees who make referrals must be kept informed at all stages of the recruiting process. They have the right to know whether their recommended candidate received a positive response from the company.
 
If an employee-related application carries more weight than an unsolicited application, the company must be ready to deal with the fallout if the recommended person isn't hired. This applies to the person who was recommended as well as the employee who made the recommendation. Frustrations can hurt the company's branding strategy.
 
Employee referrals are an effective way to recruit maintenance technicians in a tight job market where it's difficult to attract people with the right profile. However, there's a flip side so every business owner or hiring manager must have clear rules in place.