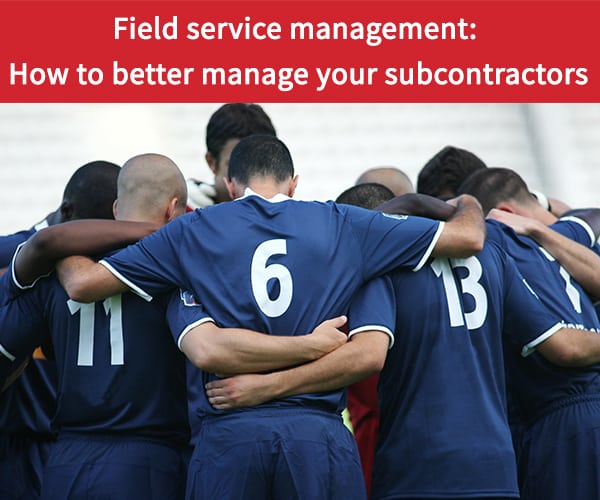 Field Service Management
Optimization
Outsourcing Management
Customer satisfaction
Field service management: How to better manage your subcontractors
Xavier Biseul
In 2018, it's no longer adequate to manage field service subcontractors with a simple Excel file. To ensure customer satisfaction — the primary goal of every field service organization — the entire after-sales service process must be automated.
 
A software-as-a-service (SaaS) field service management solution connects all players in the field service ecosystem — prime contractors, subcontractors and customers — to ensure end-to-end quality of service. It provides the detailed insight into field operations needed to monitor business performance. At the same time, it provides the data required to ensure that the contractual commitments agreed to by all parties are respected.
 
Here are four ways that a SaaS solution lets you better manage your subcontractors.
A single solution enables standardized processes
With a SaaS field service management solution, prime contractors have far better control over the services that subcontractors provide on their behalf. Instead of struggling to manage the different paper-based processes followed by different subcontractors, they can adopt standardized, software-based processes to ensure that all subcontractors follow the same methodology and deliver consistent quality of service.
 
A single field service management solution also dramatically reduces the time and effort required to manage a large number of subcontractors and locations, including offices, factories, construction sites, and warehouses. Simplifying subcontractor management reduces the risk that contract commitments won't be met and it frees staff to work on other priorities.
 
Flexibility, scalability and adaptability are key
The right field service management solution is flexible and scalable enough to match the demands of your industry and your internal processes. In addition, it must be user-friendly and intuitive so it can be easily adopted by administrative and technical staff throughout your organization.
 
Software must be easy to implement and integrate
SaaS, or cloud-based software that is accessed on-demand, is easy to integrate into existing systems with minimal deployment, administrative, maintenance, and upgrade hassles. It also allows you to apply a consistent security policy across all subcontractors.
 
Software must protect personal data
Many countries around the world have privacy laws that dictate the responsibilities of prime contractors and subcontractors with respect to protecting personal data. It's crucial that field service management software enables both parties to fulfil their responsibilities and comply with legal requirements for protecting personal data.
 
To safeguard the chain of information and avoid the need to re-enter information, the field service management solution must interface directly with the existing computerized maintenance management system (CMMS) or enterprise resource planning (ERP) software. With accurate accounting data, prime contractors can better manage after-sales service contracts and invoicing.
Custom dashboards let you track service activities
When you delegate maintenance tasks to third parties, you need to very carefully manage the services they deliver. Well-designed after-sales service software incorporates global positioning information, timestamping, and photos so you can fully track service activities.
 
Administrators can use this information in real time or in dashboards to measure service quality, technician productivity, and maintenance costs for each piece of equipment. Statistics provide the average service time, the number of service visits for each technician and the number of service calls that were resolved in a given period.
 
In October 2017, Praxedo introduced a web portal that field service companies can use to offer their customers self-service capabilities. For example, customers can use the portal to create their own service requests and follow their progress in real time.
Detailed information lets you monitor contractual compliance
To monitor compliance with contractual commitments, field service companies need access to information that confirms subcontractors are meeting time requirements. For example, telecom operators typically require that technicians provide service to their business customers in less than two hours.
 
Avoid late penalties
Customers are well aware of the service levels that are guaranteed for any given piece of equipment. By better managing the turnaround times for requests that are in progress, field service companies can more easily meet service commitments within the agreed-to time limits. Automated planning of preventive maintenance tasks also helps to ensure that time limits for service are respected.
 
Using field service management software helps to avoid late penalties. It also provides better visibility into the profitability of service contracts. Service companies can use this information to further improve the customer relationship by giving their customers credits for additional service time as a business incentive.
Mobile devices and apps increase flexibility, efficiency
The ability to monitor how service calls are resolved is only possible if field technicians consistently enter reliable data while they're in the field. To do this, technicians need mobile devices and an application that's designed for field service requirements.
 
Technicians can use the mobile service app on their smartphone or tablet to see the location of their next service call on a map and to check the relevant drawings and manuals before they get to the site. They can stay in touch with each other and with staff at the service center. And they are less likely to make data entry errors, enter information twice or forget to enter information.
 
Knowing technicians' exact location in real time lets your staff monitor and coordinate service activities in real time. This helps to ensure that service calls are executed within the required deadlines and that technicians can be easily reassigned to help out should an urgent situation arise at a nearby site.