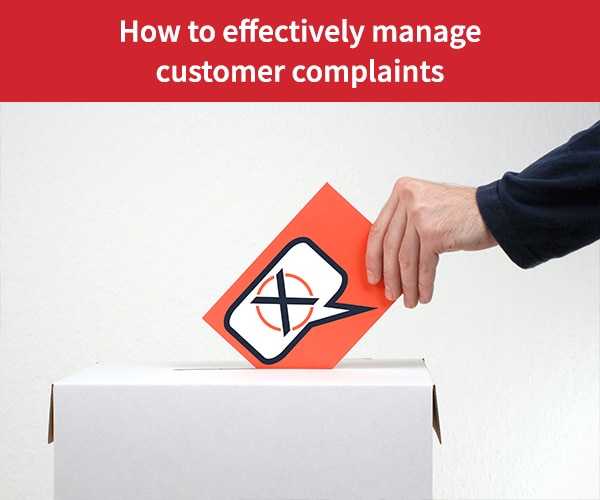 Field Service Management
Customer Satisfaction
After-sales service
SAV
Work orders
How to Handle Customer Complaints: 4 tips to effectively manage customer complaints
Xavier Biseul
Effectively dealing with customer complaints improves your company's image, quality of service and customer loyalty. And, like other aspects of customer service, there are a number of best practices that should be followed.  Unlike the French expression "one lost, ten found" that's used when referring to matters of the heart, the opposite is true in the business world. A single dissatisfied customer can easily use social networks to share their anger, leading to similar feelings in 10 others as their discontentment quickly goes viral.
Even complaints that come from customers who are known to be grouchy must be taken seriously. Even though these customers are sometimes overreacting, they may be sharing opinions that are held by more customers than you realize. And they may be revealing a serious issue in your organization that you need to quickly correct.
Remember, the customer complaints you're hearing are only the tip of the iceberg. It's a generally accepted fact that nearly nine out of ten dissatisfied customers don't share their concerns… at least not before it's time to renew their contract. At this pivotal moment, they may ask to renegotiate the terms of their contract, or they may choose to work with the competition instead.   There are three main challenges when dealing with customer complaints:
Maintaining your reputation. In the age of social media, unhappy customers have a lot of power to negatively affect your company image.

Using the complaint management process to improve quality of service and customer loyalty.

Understanding that retaining existing customers is five times less expensive than acquiring new customers.
Here are four tips to address these challenges.
1. Set up a dedicated complaint management desk
The first step for field service providers is to set up a desk, email address and dedicated phone number to capture customer complaints. Complaints should be handled similar to the way incident tickets are handled and escalated internally through your organization based on the severity level.  
You can also categorize complaints by industry, service type, whether it's a public service, the value of the contract and contractual commitments. Customers identified as VIPs can be given a priority pass for direct support by management.  
In every case, it's important to immediately acknowledge the complaint in writing — using email or courier — with the standard wording: "we have received your request and will take care of it as soon as possible."  
It's best not to include the customer's account manager or the field technician in the communications loop with customers. They're in the awkward position of being both judges of what happened and involved parties, and if they intervene in the situation, it will put those two roles at odds. On the other hand, they can certainly add context to the complaint internally by illuminating what happened.
2. How To Handle Customer Complaints: Clearly define the issue
This challenge is to formalize the complaint. If it's based on facts, it will be easier to deal with. With factual complaints, the customer coldly analyzes the reasons for their dissatisfaction in a way that can be easily verified.  
On the other hand, if the grievances are generic — "I've noticed for that last few months that your quality of service has dropped" — and include no substantiation, you will have to ask your customers to be more precise. Picking up the phone or setting up a meeting that's outside of the customer's pre-established appointment schedule will help you quickly get the bottom of the problem.  
CONSIDER ALL COMPLAINTS
All complaints, even those that don't seem at all justified, must be taken into account because they represent your customers' feelings. Customers may be tempted to exaggerate the extent of the problem in the hope their complaint will be processed faster or they will receive a goodwill gesture. Without delving into the world of psychology, customers are often looking for recognition.  
Of course, the tone of your response must always be carefully monitored, even if your customers raise their tone. You can't respond to invective with more invective. Listening attentively, with empathy and composure, will allow you to objectively evaluate the real level of dissatisfaction. To ensure there are no misunderstandings, take notes and rephrase the issue back to the customer to clarify what they're saying.
3. Reply with relevant information
It's not enough to simply register the complaint. You must process it and keep the customer informed of progress, similar to the way the service process is managed. You need to specify a deadline for your response, using a computerized complaint management solution to ensure all actions you take are fully traceable.  
Finally, it's time to provide an answer. At this state, you need to determine how critical the problem is. For example, is it an uncommon malfunction that's limited to only this customer, or does it reflect a general shift in quality of service?  
In the first case, the complaint may result in time, financial or business compensation. In the second case, you may need to implement an internal corrective action plan that results in a reorg or a change in procedures. Adopting a quality certification strategy allows you to take advantage of continuous improvement processes for maintenance services.
4. Combine human and digital worlds
Artificial intelligence (AI) has a lot to offer in many areas, and dealing with customer complaints is one of them. With technology that can analyze email contents and transcripts of phone conversations, you can track the number of times a single word, or a group of words, are used to map the types of complaints you're receiving.  
AI technology can automatically sort conversations based on the content and tone of the messages. It can then prioritize complaints by assigning a risk level ranking to them. This insight helps you anticipate breach of contract scenarios to reduce your customer attrition rate.
However, complaint management remains a human business where, as we have seen, words are very important when it comes to responding to feelings of anger, injustice or doubt. When you send a response to customers, include another apology.  
To demonstrate a positive spirit, it's also important to thank customers for making the complaint and helping you improve quality of service. Remember, all complaints, even those that are unfounded and don't require any corrective actions, must be addressed.  
Finally, everyone involved in providing service to the customer must be advised of how the incident was handled, especially on-site technicians who are in direct contact with customers and end up acting as brand ambassadors in the field.