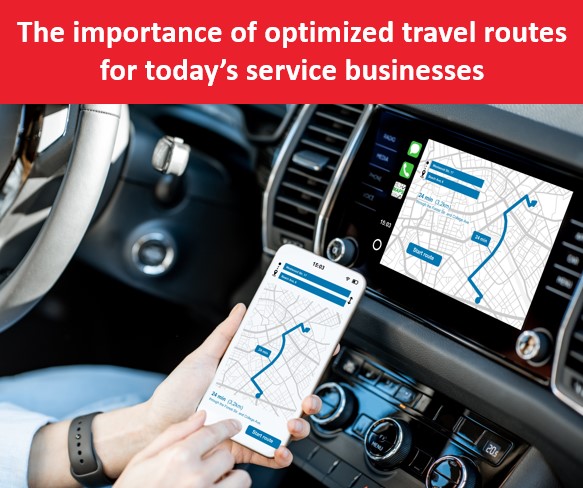 Software
Productivity
Field Service Management
Optimization
The importance of optimized travel routes for today's service businesses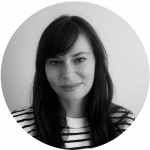 Tania Piunno
For many service companies in North America, ensuring their field technicians always take the most efficient route seems impossible sometimes. There are just too many factors to predict and control. Calculating the best possible route from point A to point B, in terms of driving time and money savings is extremely difficult without the right tools to help:
Dispatchers choose the correct course
Technicians get to the correct location on time
Service managers oversee their mobile teams in real time
Productivity gains are crucial for business success. Field service management software automates route planning so technicians have insight into the quickest way of getting to customers, on their mobile devices and get the most out of their day.
Improving these processes simplifies allocation of field resources, saves hours of time on travel, and gives technicians peace of mind. All of this results in happier customers at the end of the day.
3 reasons your service company should optimize technician routes  
Because happy, successful field teams are good for business
Poorly planned travel routes are hard on your employees and your business. Excessively long distances between customer sites, appointment mix ups, and delays not only frustrate customers, but also hinder your teams' ability to work efficiently. And they diminish morale.
 
When travel times are improved for your technicians, inspectors or auditors, work life becomes easier and more enjoyable. They can avoid unnecessary travel. Their schedules are optimized for efficiency. And they have access to all of the information needed for smooth and successful service delivery. You're effectively giving them the means to deliver the best possible experience for your customers when routes are tracked, managed and optimized in one place.
Because better quality service increases customer satisfaction
A service company that operates smoothly and efficiently attracts more customers. In fact, customer satisfaction is one of the top metrics for any company that delivers a service, in any industry. The quality a customer receives from your company determines the relationship they choose to have – whether they remain loyal, whether they decide to leave you, or whether they recommend your service to others.
 
One data-backed fact by Hubspot explains the importance of investing in customer service because loyal customers will convince new ones to work with you free of charge.
It is important to remember however, that optimizing travel routes is not just about successfully resolving customer problems. More efficient routes also help you become more responsive so you can meet contractual commitments. Arriving on time and keeping customers informed on the status of the work are easy ways to gain loyalty. Field service management software helps service companies in many industries including HVAC, utilities, telecommunications, pest control, property management, etc. be more responsive and communicative by getting technicians there on time while sending notifications.
Because good field service management saves the company money
An interesting Aberdeen Group study shows that if a problem is not resolved during the first visit, 1.5 additional service calls are required on average, to fix the problem. This means that, depending on the industry you're in, the cost of resolving an issue can multiply from several hundred dollars to several thousands. Software that automates your business operations and work orders can help you keep costs under control.
Cloud-based, best-of-breed tools are key to increasing productivity
Best-of-breed software is used by service teams for its efficacy. Leveraging the best technology, rather than sticking to an all-in-one solution for everything makes your company more competitive.
When business processes are 100% cloud-based, employees can communicate more effectively in real time, access information at any time and store work order documents safely forever. Technicians that are scattered all over the map need tools like Praxedo, to help them do their jobs better.
Best-of-breed powers productivity. The time administrators are able to save by eliminating manual/double entry is astounding, and the time technicians save from not having to travel to and from the central office is huge.
Visibility into field operations
While it may not be obvious at first, using building maintenance software to move away from paper-based route management gives you the visibility needed to improve productivity.
Gone are the days when double carbon forms are forgotten in the truck or lost between trips. When dispatchers power up the web version of the Praxedo solution, they can see every technician's schedule. Technicians with GPS capabilities on their mobile devices, allow dispatchers to pinpoint exactly where they are, at what time, and can verify timestamps to ensure work orders are being carried out on schedule.
New insight into technician productivity is extremely valuable. Dispatchers can maximize the number of service calls each technician is assigned throughout the day. Emergency events can also be taken care of without a hitch when the technician with the correct skills to handle the job can be identified and sent with smart scheduling functionality, at the touch of a button.
Artificial intelligence automatically optimizes schedules
Service companies that use Praxedo's Smart Scheduler use algorithms to plan the ideal travel route, taking factors such as customer requirements, location and traffic info into consideration. Artificial intelligence is becoming increasingly essential in every industry and field service management is no exception.
 
More intelligent scheduling also means having the ability to prevent or "predict" equipment breakdowns. Developing recurrent schedules for maintenance tasks to take place at regular intervals prolongs equipment life and improves customer relationships.
Integration with enterprise systems enables automation
The ideal route optimization software integrates fully with your enterprise resource planning (ERP) and customer relationship management (CRM) solutions so you can take full advantage of automated information sharing.
 
You'll want to look for best-of-breed software that integrates smoothly with commonly used third-party systems such as Salesforce.com, Microsoft Dynamics and SAP. Plugging in a specialized field service management solution allows data to flow easily from one application to another. With automated information flows, your field teams and your customers enjoy better experiences. The creation and delivery of invoices can also be automated so you can bill a client right after the work is done, rather than having to wait 1 week or even 2. Speeding up the invoicing process ultimately gets you paid faster.