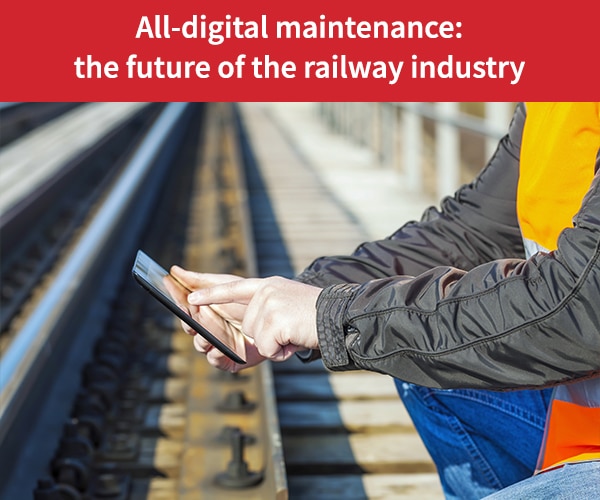 Field Service Management
Maintenance
Why the railway industry is taking maintenance all digital
Xavier Biseul
From the Internet of Things (IoT) to drones and artificial intelligence…the railway industry continues to capitalize on technologies that make maintenance ever-more predictive. SNCF, France's national state-owned railway company, is a leader in this area.
 
Regulars on SNCF trains are used to hearing announcements saying a break in a wire has interrupted service on the line. Most people immediately translate these messages into endless wait times on platforms. And, if you're in a train car, you just have to hope this technical incident doesn't get worse. In summer, air conditioning breakdowns make the situation particularly untenable.
 
Again this summer, multiple computer, mechanical and electrical breakdowns caused significant delays on trains in France. Faced with growing passenger dissatisfaction, SNCF has embarked on a transformation journey that relies largely on new technologies.
 
In April 2016, Guillaume Pepy, CEO of the rail transport group, presented his "industrial internet" plan with a budget of 500 million euros. By 2020, SNCF plans to deploy hundreds of thousands of sensors that will enable predictive maintenance on trains, inspections along rail lines and monitoring at rail stations.
IoT and AI are a winning combination
The industrial internet is related to IoT and artificial intelligence (AI). Sensors are installed everywhere — on tracks, at switching points, on rolling stock, in stations — with the goal of enabling broader use of predictive maintenance. The right security alarm company management software is an integral part of managing this.
 
From air conditioning to pantographs
Let's use air conditioning as the example again. Railway companies want to avoid stopping trains at all costs. And they really don't want to ask travelers to disembark along the tracks. Sensors that measure airflow help prevent faults from occurring and guide maintenance actions so railway companies aren't restricted to following a preventive maintenance schedule. Other sensors detect weaknesses that could lead to failures in overhead electrical wiring.
 
SNCF also analyzes the data transmitted by doors to verify they're closing properly. The same is true for heating, toilets, batteries, brakes and the compressors that push air into brakes and into pantographs, the articulated arms that electric trains use to make contact with overhead power wires.
A 20% decrease in the cost of train maintenance
While the newer, two-level Francilien and Regio 2N Parisian suburban trains came equipped industrial internet technology, SNCF has had to update older equipment with connected objects to take advantage of remote diagnosis capabilities. By retrofitting aging equipment with new technologies, SNCF's goal is to move three-quarters of its rolling stock to predictive maintenance in 2020.
 
SNCF's vast industrial internet strategy has already translated into a 20% drop in the cost of train maintenance. In an interview published on its website, an SNCF expert explains that 90% of preventive maintenance tasks consist of checking a level, a rating or a performance measurement. The expert notes that with easy access to this data, the company can save the effort required to collect it and focus on the remaining 10%.
Stations and network infrastructure are also involved
The industrial internet is not limited to rolling stock. In stations, SNCF uses IoT to reduce downtime for elevators, escalators, automatic doors and lights by detecting early signs of failure.
 
SNCF Réseau also uses sensors to inspect its 30,000 km of railways. Structures and particularly sensitive network equipment such as switches, level crossings and wiring poles are closely monitored so that damage can be detected in real time.
 
With data collected from sensors that measure electrical currents, temperature and liquids, it's possible to optimize the "health" of the monitored items by anticipating potential drifts in measurements.
 
It's also possible to analyze the behavior of railway tracks. First, a railroad car with sensors records any irregularities in the track. The, an AI algorithm predicts how the tracks will behave based on rolling weights and weather. Other sensors measure the track temperature because it's known that steel deforms during heat waves.
Drones inspect sensitive equipment
SNCF also uses larger connected objects such as drones to see the state of car roofs, to inspect the condition of structures and sensitive equipment, and to analyze the vegetation growing along the tracks.
 
Depending on the plant species, there can be a need to proactively remove the vegetation to ensure it doesn't interfere with the tracks. Integrating weather data makes it possible to focus efforts on the areas of the rail network where the risk of falling branches or trees is highest. SNCF Réseau has even created Altametris, a spin-off company that's dedicated to using drones to maintain infrastructure.
IBM and Sigfox partner with SNCF
To drive its vast industrial internet strategy, SNCF has created an ecosystem of high-tech companies. In 2017, SNCF signed a three-year contract with IBM to use the company's cloud, and to use Watson, its cognitive intelligence system. To transmit data throughout the country, SNCF uses LoRa and Sigfox, dedicated low-speed networks that are designed for IoT.
 
SNCF has also opened Espace 574, a series of "digital houses" that are focused on digital innovation and named for the world record rail speeds set by SNCF in 2007. The Labège location near Toulouse is in the area of France called the IoT valley and is close to Sigfox and to Intessens, a startup that works with SNCF and designs wireless sensors for remote monitoring of industrial deployments.