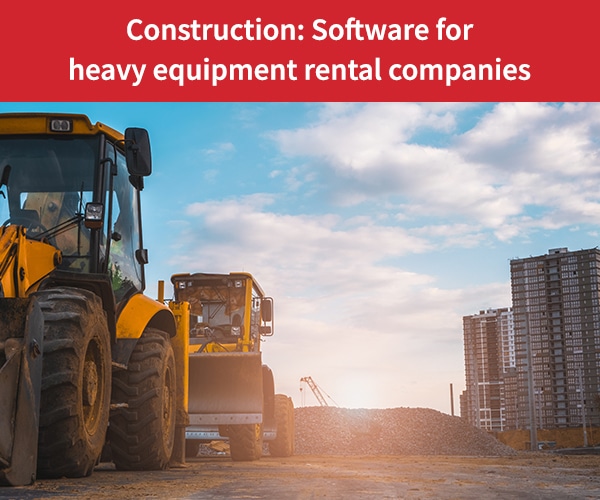 Software
Field Service Management
Secteurs d'activité
Heavy Equipment Rental companies: Streamline Operations with construction equipment rental software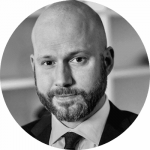 Kieran Le Peron
Customers that rent construction or industrial equipment are usually involved in complex projects and want to rent an array of equipment that they would need at different times and places.

Also, they can end up handling a lot of paper. Rental requests, delivery orders, pick-up orders, and invoices are just some of the documents generated during the rental process for each piece of equipment rented.

Field service management software lets heavy equipment rental companies eliminate all of this paper, along with the time, risks and headaches that come with handling it. The software also enables faster, more accurate reporting on rentals and faster billing cycles.
Heavy equipment rentals are big business
Renting construction equipment, such as cranes, backhoes, loaders and compactors, or industrial equipment such as air compressors, aerial work platforms and forklifts, is often the most financially prudent approach for construction or industrial companies. They can't justify the capital costs of purchasing the equipment, and they don't want the costs or hassles associated with maintaining it.

Although the global health crisis had a significant impact on equipment rentals in 2020, industry growth is expected to resume soon.

According to an article published by Rental Equipment Register, the American Rental Association (ARA) forecasts that the US construction and industrial rental revenue will decline by 3.3% in 2021 before a double-digit growth of 11.2% in 2022. The Canadian construction and industrial rental revenue will grow 7% in 2021, 9% in 2022 and 7.4 % in 2023.
Rental logistics are complicated
Today, construction equipment rental companies offer everything from portable construction trailers to generators, portable lighting and heaters. Some even offer drones for monitoring construction projects and exoskeletons that reduce the strain on construction workers.

Most companies also offer delivery and pick-up services. Depending on the project, the rental period can vary from a few days to several months. And last-minute rental extensions are often required to accommodate unexpected project delays.

When you combine all of these offerings with the need to perform maintenance on equipment and provide emergency repairs, construction equipment rental companies are managing a complex set of logistics.
Digital information flows are essential
To ensure timely and accurate information flows and faster billing cycles, companies that rent heavy equipment must eliminate paper and move to digital systems.

State-of-the-art rental inventory software provides all the features and functions needed to easily manage all the different aspects of their business.

The Praxedo Field Service Management software has proven its value to a number of heavy equipment rental companies.

Praxedo's customers can easily manage the schedules of employees and subcontractors who provide preventive maintenance and emergency repairs. They can also track spare parts, improving their ability to provide on-demand services for unexpected repairs.

Praxedo can also provide field workers with a mobile app. The app is fully customized for the tasks field staff are assigned and the equipment they work with.

Rental companies can send the relevant safety instructions for the job site and the equipment being serviced directly to field workers' mobile devices.

In addition, service technicians and mechanics can include geocoded and time-stamped photos of broken parts with their electronic reports. This allows rental companies to show customers the before and after condition of the rented equipment if there's a dispute about what happened in the field.
Managing work orders, particularly in the context of a heavy equipment rental business, has become increasingly complex due to the high volume of transactions and the technical nature of the equipment involved. 
Therefore, it's crucial to leverage solutions such as equipment rental software that can automate and streamline rental processes. 
Equipment rental software does more than just manage work orders; it also monitors equipment maintenance, which is a critical aspect of any rental company. Regular maintenance ensures that all equipment is in optimal condition, reducing the likelihood of breakdowns and the associated downtime. 
By tracking maintenance schedules and logging service histories, rental companies can extend the lifespan of their equipment and, in turn, increase their ROI. 
Another significant advantage of using equipment rental software is the ability to manage operations in real time. Whether it's tracking the availability of equipment, adjusting rental prices, or organizing equipment delivery and returns, real-time management allows rental businesses to respond to changes and make data-driven decisions quickly.
 It aids in predicting trends, adjusting strategies, and ultimately enhancing customer satisfaction.
Moreover, the incorporation of a mobile app in such systems brings another layer of convenience to the table. With a mobile app, not only can managers oversee operations from anywhere, but it also allows for seamless communication with field technicians. 
This way, if there's a sudden change in schedule or an emergency breakdown, the necessary steps can be taken promptly.
The integration of equipment rental software into the operational framework of a rental company can bring about remarkable improvements in efficiency. 
Through automated work order management, comprehensive equipment maintenance tracking, real-time data processing, and a user-friendly mobile app, equipment rentals can be managed more effectively, enhancing overall business performance.

Here's a brief look at how two equipment rental companies are benefiting from the Praxedo field service management software.
Kiloutou increases productivity by 15%
Kiloutou is the third-largest construction equipment rental company in Europe. The company employs 6,000 people at the corporate level and operates 550 branch offices. Within France, Kiloutou manages rental services for 250,000 pieces of equipment. Approximately 90% of Kiloutou's business is with construction companies, while the other 10% is with individuals.

Since Kiloutou adopted the Praxedo field service management software, the company has increased productivity by 15%, improved customer satisfaction and working conditions for staff.

Previously, Kiloutou equipment delivery and pick-up staff recorded the details of their actions on paper. With the move to Praxedo, Kiloutou can take an important step toward its goal of moving all logistics processes off of paper. Electronic service reports are a first step.

Today, more than a year after it started using the Praxedo software, Kiloutou manages and tracks more than 500,000 equipment movements using tablets and smartphones.

The photos taken by its drivers are automatically associated with the corresponding customer delivery or equipment return and uploaded into Kiloutou's information management system. Now, if there's a dispute over the condition of equipment, customers no longer have to travel to a Kiloutou office to resolve the issue.
LT Group accelerates billing by almost 20 days
LT Group is a leading player in the construction equipment and machinery rental industry. Founded in 2003, LT Group employs 350 people, including 300 drivers, across 16 branch offices.

LT Group is using the Praxedo field service management software to optimize processes for about 200 daily assignments in its construction machinery and truck rental division. The company's drivers used to complete their job reports on paper, which meant local offices had to wait for drivers to return to the office to collect them.

Once returned, the job reports were processed by hand to create invoices. This administrative work added considerable time to the company's billing times. However, when LT Group moved to the Praxedo software, those billing times were cut by almost 20 days.

In addition to faster billing times, the Praxedo software improves tracking and traceability of the services provided to customers, allowing LT Group to strengthen customer relationships with more timely and transparent communications.
 
ELECTRONIC FORMS ARE CUSTOMIZED FOR SERVICES OFFERED
With the Praxedo software, LT Group was able to create customized electronic forms for each type of service it provides — truck rentals, construction equipment rentals, with or without a driver. Delivery staff receive all the information they need to carry out their tasks on their smartphone.

When drivers arrive on-site, they use their mobile app to change their status and follow the steps listed on the electronic form for the job. They can quickly and easily tick the checkboxes on the form to confirm equipment condition, attachments provided and safety instructions supplied.

At the end of the day, drivers enter the time, re-check the equipment condition, take photos if necessary and provide the information to the customer for review. The driver and the customer can then electronically sign the work order.

Once it's validated, the signed work order is instantly sent to the customer, the local office and even temporary employment agencies when work is completed by a temporary worker. The admin department can then process the work order to create the invoice and send it to the customer.