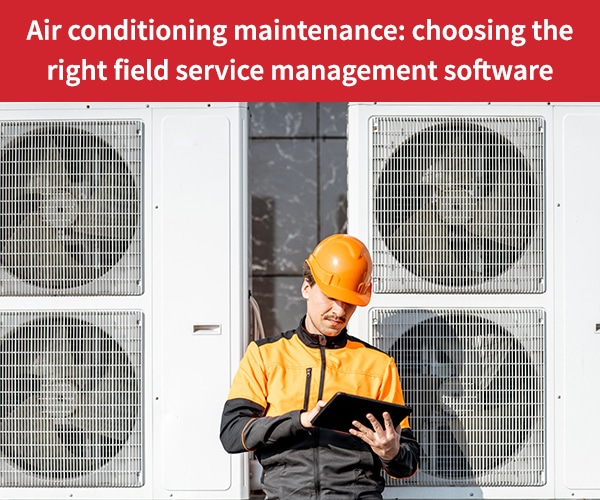 Software
Field Service Management
Industries
How to choose a Field Service Management software for air conditioning specialists
Xavier Biseul
Due to the potential environmental and health consequences, air conditioner installations and maintenance must be completed according to a specific set of rules.
 
For example, to comply with contractual and regulatory requirements, air conditioning specialists must use a software platform that's the latest generation available.
 
Air conditioning specialists have a bright future ahead of them. Global warming is an increasingly tangible reality. The two scorching heat waves that France experienced this past summer are bound to reoccur. As a result, the International Energy Agency expects the number of air conditioners in use globally to grow 3.5 times by 2050, jumping from 1.6 billion units to 5.6 billion.
 
This widespread adoption of air conditioners will have environmental, economic and health consequences. Not only do air conditioners consume energy, they also use toxic refrigerants that increase risks should there be a leak. Finally, germs and other bacteria can live in air conditioning systems, leading to colds and allergies, no matter what the season.
 
Together, these factors make air conditioner maintenance a big issue. Most maintenance contracts for air conditioners include annual service. This preventive maintenance includes verifying air conditioner pressure, inspecting air ducts, and checking the condition of the filters.
Strict regulatory frameworks dictate requirements
The profession is heavily regulated. On May 7, 2007, a French Environmental Code decree opened the door to criminal charges against air conditioner owners who do not use the services of a professional who has been certified by an approved body.
 
Another decree, published on March 31, 2010, makes it compulsory for an inspector who works independently of the maintenance provider to check the seals on refrigerant coils in equipment that contains more than 2 kg of fluid or that has a cooling capacity higher than 12 kW.
 
At a broader level, European regulation F-GAS 517/2014 / EU aims to reduce emissions from the fluorinated gases in air conditioning systems. Some equipment will be gradually removed from operation. Starting in January 2020, this is the case for "mobile" air conditioners that produce hydrofluorocarbon (HFC) gases with a global warming potential (GWP) higher than 150.
Going digital is essential
On the field service provider side, article R543-122 of the French Environmental Code stipulates that providers can be fined for a number of reasons, particularly if they don't create a service report. The on-site technician is also required to complete the Cerfa 15497 administrative form as soon as the service call requires handling of refrigerants.
 
Completing this multi-field document is slow and tedious. Technicians must identify the nature of the service, the type of fluid involved, the quantities of fluids added and removed, and the frequency of monitoring activities. Because this task is completed manually, it can include errors, particularly in the calculations and conversions for the quantities of fluids added and removed.
 
Electronic signatures provide proof of service
Switching this task to electronic format saves time and ensures the accuracy of the data entered. This is what the Praxedo field service management software offers. Technicians use their mobile application to access forms that include pre-filled fields and fields with drop-down menus. The Cerfa document is then electronically signed by the customer and the technicians and automatically submitted by email.
 
This document serves as proof in the event of a dispute. It's digital, so it's easy for the air conditioning specialist and the customer to keep it for the five years that are required and for legal authorities to check it.
Air conditioning specialists have strict contractual commitments
Regulatory compliance, and the associated risk of criminal charges or fines, is not the only reason to switch to state-of-the-art field service management software. An air conditioning failure can have an immediate effect on a company's productivity so it must be resolved as quickly as possible
 
Air conditioning specialists are bound by strong contractual commitments linked to guaranteed response times and guaranteed recovery times. To respect these commitments, technicians need solutions that optimize travel routes using geolocation and artificial intelligence technologies. They also need detailed traceability of the equipment being maintained.
 
Another metric — the first-time fix rate — is also carefully scrutinized. When technicians have all of the information required for the job, including technical manuals and installation history, on their mobile device and can interact with remote experts, they have everything needed to resolve the problem on the first visit.
Reports and metrics provide crucial insight
When this information is consolidated, service companies can develop reports and dashboards that provide a real-time view of metrics that measure service activities and quality of service by comparing the time spent providing service to the cost of the service.
 
Field service providers can also offer their customers an overall view of their operations and a detailed view of the curative and preventive service activities carried out on each type of equipment. This allows customers to see which parts are changed regularly and which equipment is most vulnerable to failures. These metrics help guide air conditioner choices in the future.
A web interface and mobile app serve these specialists well
Solutions such as the Praxedo Field Service Management software meet the requirements that are specific to the air conditioning businesses. Schedulers use the web interface to optimize technicians' routes. Because they can locate technicians on the map in real time, they can easily reschedule service calls to accommodate an emergency.
 
The mobile app guides technicians as they carry out their installation and maintenance operations. They can quickly create service reports and, if applicable, attach supporting photos. And, they can do all of this without an internet connection because data is synchronized later, when the connection is made.
 
Finally, the field service provider can focus on value-added customer relations because the platform automatically sends notifications by email or text at all stages of service, from the initial request through to project completion.