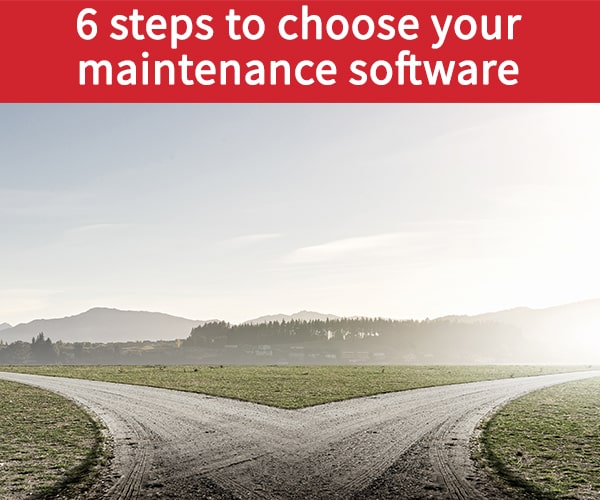 Software
Optimization
Maintenance
6 steps to choose your maintenance software
Xavier Biseul
From specifications writing to user training, choosing the right maintenance software is a multifaceted challenge.
 
Tracking maintenance contracts and work orders is serious business. Just one missed appointment can create significant customer dissatisfaction. That's why simple Excel files just don't cut it anymore. Service departments need centralized information so they can share knowledge in real time with field personnel, as well as schedule work orders.
 
By automating the entire work order process, workloads can be balanced, technician productivity can be improved and, ultimately, quality of service (QoS) can increase customer satisfaction.
1 / Prepare your specifications
Like every IT project, it all starts with functional and technical specifications. The specifications document formalizes your requirements, identifies your service expectations, and specifies project constraints, including the budget. Be sure to cover every angle. If you haven't tackled this kind of project before, search for IT requirements templates and speak with a more experienced IT manager.
 
Ensure that the maintenance software can be integrated with your existing IT systems
User requirements need to be assessed in light of your current and planned IT environment. For the right fit, the maintenance software must be interoperable with the different software packages (e.g., ERP, CRM) already in place, as well as future IT developments.
 
The operations manager must also take into account IT accessibility and security constraints. Plus, the project manager must ensure that the new solution fits within the operations and capital expenses budget.
2 / Leverage your entire field service team
The intended users — dispatchers, field technicians, operations managers — are best placed to define the requirements for maintenance software. Take the time to interview several users so you can understand their point of view and level of comfort with software tools.
 
Be sure to ask the following questions: What are the key limitations of the current system? What are the recurring customer complaints? Do different types of users need different features? Document your findings by user type.
 
Tip: Look for a simple and intuitive user interface that works like popular apps. Otherwise, a dedicated training budget will be needed to help users cope with a burdensome changeover.
3 / Compare competing solutions
Once you understand the characteristics of the ideal maintenance software, the search begins. Which off-the-shelf solution maps most closely to your requirements? Can it be easily adapted to suit your unique needs?
 
Alongside the solutions, vetting the companies that provide them is a must. Closely check their reputation for customer service, financial stability, and feature development track record. Also, ask to speak with current users to hear first-hand accounts of working with the field service management software, as well as the support team. Once you've done your homework, a clearer picture of the strengths and weaknesses of each solution will emerge.
 
Look to industry benchmarks
Once you have a shortlist of solutions, ensure you are making an apples-to-apples comparison based on the relevant criteria, including data accessibility, functionality, user interface, administration and security. To supplement your research, consult commercially available IT industry analyst reports, which provide benchmark information. In particular, Gartner ― a reputable US IT analyst firm ― publishes its annual Magic Quadrant report for field service management.
4 / Decide between a SaaS-based or on-premises solution
The benefits of software as a service (SaaS) cloud-based solutions are compelling. As a result, this approach has been widely adopted by private-sector enterprises. In brief, the SaaS provider manages the entire IT infrastructure, including security, software deployment, updates, and data archiving so that small and large enterprises can focus on core capabilities. That said, a few exceptions remain – mostly regulated professions and parts of the public sector, such as local governments – where organizations are required to host their data within their own infrastructure.
 
For field service companies, the SaaS approach has several big advantages, including scalability, rich functionality, and mobility. Put another way, as your business grows – from 20 to 200 field technicians – the solution scales-up in step with your requirements. You can get all the features that have been developed over the years for every other client. Plus, the SaaS platform is available anytime, anywhere, on a landline or mobile device.
 
In terms of finance and operations, there's another important difference. Rather than acquiring a license, SaaS uses a subscription model. User subscriptions are classified as operating expenses (OPEX) as compared to software licenses, which are capital expenditures (CAPEX).
5 / Prioritize essential features
Depending on your circumstances, certain criteria may be more important than others. Some teams focus on planning. They need the software to be flexible enough to plan or schedule a series of work orders on the fly and to add, in an emergency, a new job into an existing route. At the same time, planning constraints must be respected. That means the solution needs to reconcile customer requirements – windows of availability, contract terms – and match the work orders to the right field technician.
 
The mobile app: Central to the customer relationship
The mobile app – its functionality and ease of use – is critically important to an effective maintenance software solution. The field technician needs all the work order information – from the schedule and route maps to completing and filing the work order report.
 
For companies that need key performance indicators (KPIs), analysis tools and reporting features are a must. The work order completion rate, billable work hours per technician, and the guaranteed recovery time (GRT) are just a few of the metrics the solution should report. In addition to providing standard KPIs, the software should also be able to adapt to your specific business needs.
6 / Remember: training and support is critical
A software vendor should practice what they preach ― that means stellar customer support. Before you select a solution, be sure the vendor provides high quality support. This means first-rate support personnel, telephone assistance during office hours and 24/7, as well as guaranteed response times.
 
The same goes for user training. Check to see that user training is included in the subscription fees. Is face-to-face training provided on-site or on the vendor's premises or online? Is there a community or forum where users share their experiences or advice? A credible vendor should be able to check "yes" beside each of these vital training and support services.