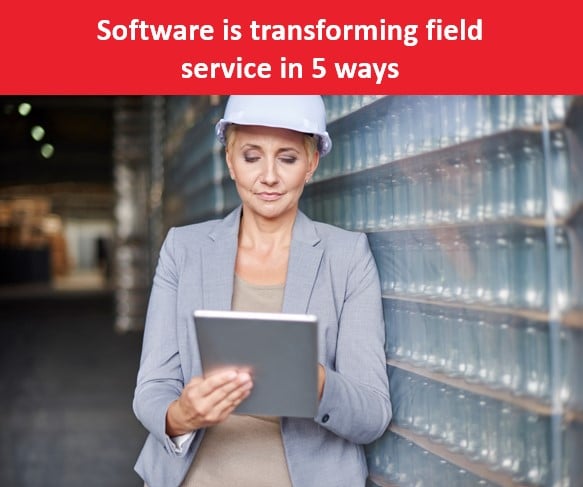 Field Service Management
Technology
field technicians
Software technology transforms how field service teams work in these 5 ways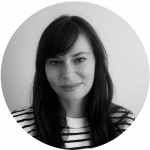 Tania Piunno
There's no question, technology has changed the way people work. More and more employees have the flexibility to work remotely and the workforce is more connected than ever. For field service organizations in particular, technological advancements and mobile tools are empowering technicians to do their best work during every customer visit. In fact, it optimizes business operations and improves productivity for administrators in the office as well as technicians in the field.
We've gathered 5 primary ways in which software helps elevate the service experience for everyone on the job.
5 ways software is transforming field service
1. It's a place for technicians to document critical information that is captured onsite
While on-the-go, field technicians need access to messages, their schedules, info on the location of spare parts, notifications from the dispatch team and inquiries from customers in one place. Praxedo offers an easy-to-use mobile app that eliminates unnecessary steps for the technician while filling out their work order reports. This is particularly helpful in industries that work in extreme environments.
Technicians in telecommunications and utilities for example, deal with dangerous scenarios almost every day. Oftentimes, a technician will be servicing equipment in the air, dangling from a power transmission pole, or installing fiber optic cables underground in unfavorable weather conditions. The last thing they want is to have to document their findings while in a compromised position.
A field service management mobile app like Praxedo simplifies the process of information-sharing by providing online/offline functionality that connects them to the tool even without a cell signal. Once the technician is back in range, the information syncs so the central office can access it.
2. It strengthens the security of your data
Since its inception, cloud computing technology has given users access to electronic documentation from any end device including iPads, tablets, mobile phones and laptops. Field service teams today are using these devices to facilitate communication and work more efficiently regardless of their location.
The information that is stored in the cloud is always encrypted, making it safer than any data one would normally jot down on paper or file away in a storage room. A cloud solution essentially guarantees the security and stability of the information a technician captures while out in the field.
3. It improves response times and boosts productivity
Using smart technology to create, change, and manage schedules is revolutionary for field service teams. The dispatcher who organizes the schedule needs to be able to track technician activity in real time and optimize routes accordingly. Based on specific work parameters, intelligent scheduling allows them to analyze distances between job sites, view technician activity statuses and allocate the best employee to a job within seconds. Using algorithms to determine which routes are shorter than others and which technician is skilled enough to take on a complex request, service companies can increase their response times for last-minute, emergency jobs.
Productivity gains are also a huge plus. In fact, according to an Aberdeen report entitled Capabilities Propel Service Management: The Best-In-Class Advantage, companies that use a field service management software gain up to 33% more time to spend on field activities.
4. It makes you much more proactive
The purpose of preventive maintenance is exactly what the term suggests – it prevents a piece of equipment or system from failing or getting to a point where an urgent call must be placed.
Maintenance that is planned in advance can limit the amount of emergency calls a company makes and saves them money. Regular check ups on critical systems such as medical devices that sick people highly depend on or elevators that safely transport individuals from floor to floor actually prevent accidents from happening. Medical institutions cannot risk their devices breaking down at essential times, making preventive maintenance a necessity. Field service software enables planned visits so downtime and costs stay at a minimum. In this regard, the service company is more proactive and helps lengthen the lifespan and performance of critical machines that people in these industries exceedingly put their confidence in.
5. It empowers technicians to enhance customer relationships
According to field service industry expert, Jim Baston, technicians are extremely important brand ambassadors for field service providers, and technology plays a key role in helping them strengthen and expand customer relationships. "The more technology can be used to help technicians focus on the customer relationship aspects of the business, the better it is," he says.
Baston also highlights the value of fully informed technicians. "It's very important for technicians who are in front of customers to look like they're fully in the loop, ready to answer questions, able to proactively make, and follow up on, recommendations for additional services, and provide a quote on the spot," he says. "Technology gives technicians the information and insight they need to elevate themselves to the role of a trusted advisor that customers rely on. That's a real point of differentiation in the field service industry."
Leading field service providers rely on Praxedo
Field service providers of all sizes, and in all industries, partner with Praxedo. Our customers include well-known multinational corporations with hundreds of field technicians as well as smaller organizations and those that service niche markets. We're able to partner with such a wide variety of organizations because our cloud-based field service management software and mobile app deliver a combination of flexibility, scalability, simplicity, and features that are unique in the industry.
As a Praxedo customer, you can:
Choose the features, functions, and pricing that make the most sense for your business today, then easily add new capabilities and support more users as your business and budget grow. With features ranging from web-based scheduling with real-time monitoring and route mapping to extranet access for contractors, in-depth analytics, and mobile stock management, every field service provider can choose the features and functions they need most. Our subscription model means you only ever pay for the capabilities you use, and predictable pricing makes budgeting easier. 
Start taking advantage of the software in just a few days rather than the weeks or months other solutions require to implement. You can easily deploy the solution yourself, let our experts take care of everything for you, or get assistance when and where you need it.
Reach out to us to schedule a demo today.