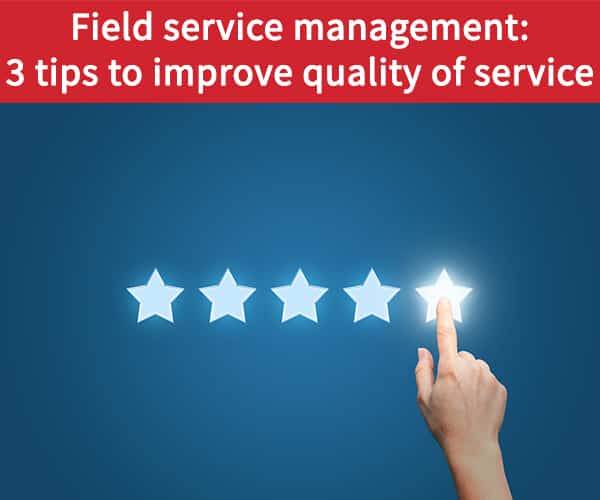 Productivity
Field Service Management
Technician
Work orders
Customer satisfaction
Field service management: 3 tips to improve quality of service
Xavier Biseul
To increase quality of service, field service companies should be looking to take advantage of paperless processes, more efficient travel routes and mobile solutions.   In an increasingly competitive market, quality of service is a key differentiator. According to a 2014 survey conducted by the consulting firm, Aberdeen Group, (State of Service Management: Roadmap to a Profitable 2014), 68% of field service companies say they focus on customer satisfaction more than their costs and benefits when analyzing results.   The success of aftermarket services is highly dependent on technician capabilities and caliber. As a result, field service companies must ensure technicians have everything they need to successfully complete their tasks.
1: Go paperless
In 2018, service companies can't afford to ignore digital workplace tools. Field service management software has an important role to play in every aspect of service delivery, from planning to completion.   With fully electronic information flows and the right data management strategy, field service companies can meet three objectives at once. They can:
Reduce operating costs

Increase field technician productivity

Increase customer satisfaction
Everyone benefits:
Dispatchers have all of the information needed to optimize travel routes.

Customers have access to real-time progress updates about their service request.

Technicians can use their mobile device to see their complete schedule and to consult technical drawings and manuals while on-the-move.

Administrators have a dashboard that gives them the big picture for all customer activities, including appointment times, repair times and the number of service calls in progress.
Avoid typing errors, reduce billing time
Going paperless also eliminates the errors that inevitably occur when people manually enter information. Now technicians can use drop-down menus and checkboxes to report on service activities. And they can include photographs and electronic signatures that validate the work was properly completed.   Ideally, field service management software is also integrated with business applications such as enterprise resource planning (ERP) and computerized maintenance management system (CMMS) software. Integration with information systems, which the Praxedo solution achieves using web services, significantly reduces billing times.   In fact, invoices can be automatically generated based on the details — service duration, services performed, spare parts used — provided through the technician's mobile app.
2: Optimize travel routes
Field service management software is also key to ensuring that technicians always travel on the most efficient routes during their work day. The software must be as intuitive as possible, enabling dispatchers to simply drag and drop to move service calls, change schedules and reassign tasks to other technicians.   The dispatcher can see field technicians' progress in real time on a map. Now they have the visibility needed to assign an urgent service call to the nearest technician and to add nearby preventive maintenance tasks to a technician's schedule when it makes sense.  
Constraint-based planning and artificial intelligence
Field service management software must support constraint-based planning — the ability to consider technician availability and skills as well as customer constraints such as service times and contractual requirements.   Artificial intelligence helps dispatchers make decisions by using algorithms that analyze all of the operational requirements to determine the optimal schedule for each technician in just a few seconds.
3: Go mobile
The field technician's mobile app is crucial to their activities. Whether they're using a smartphone, a tablet, a laptop or a connected watch, technicians can access all of the information they need during their work day. For example, the map shows them the location of all of their service calls as well as the location of spare parts depots and inventory levels.   Technicians can use their mobile device to get all of the details for their next service call, including the site address, contact details, service requirements and service history. If they're using the Praxedo mobile app, they can also assign themselves additional jobs that are nearby.  
Turn technicians' mobile device into a mini mobile office
Technicians can use the GPS function on their mobile device and Google Maps, Waze, TomTom or Plan to get directions to their next job. And they can use the device to record their work hours, including job completion times, travel times and break times. Technicians can also check stock levels for the spare parts in their vehicle. If the right part is not available, integration with the company's ERP system lets them know where the nearest stocks are located and the available quantities so they can reserve or order the required part. Technicians can even use their mobile device as an electronic payment terminal to accept payment for the services provided while still on-site.  
Enable technicians to collaborate and work offline
To accelerate problem resolution, technicians can use their mobile device to initiate video conferencing, instant messaging and shared whiteboard sessions with remote technical experts to gain additional insight. They can also exchange photos and diagrams that include annotations and comments. Praxedo Share, a remote collaboration service developed by Praxedo, won the "Best Application for Mobility" award at the Trophées de la Convergence.   When field technicians are working in areas with no network access, they still need the ability to use the mobile app to access information, such as details about spare parts, that is stored locally on the device. Any data that is entered while the device is offline is synchronized when the network becomes available again.