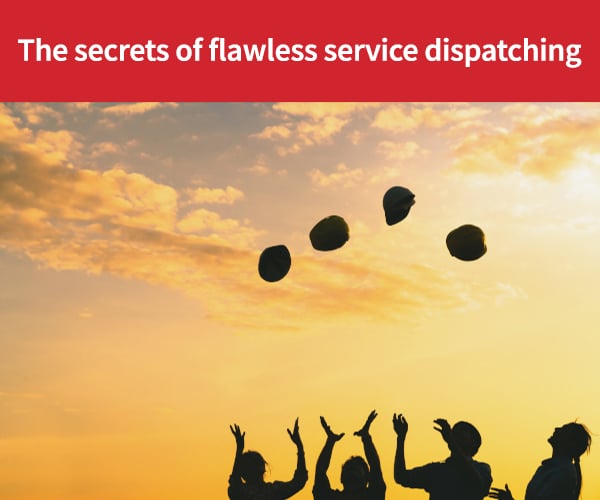 Productivity
Field Service Management
Optimization
Work orders
Productivity
6 tips to improve service dispatching
Xavier Biseul
Service companies must put processes in place to monitor their activities over time and ensure compliance with contractual commitments. Here are a few ways to get started.
Monitor field activities in real time
Excellence in business management begins with the ability to monitor employees' activities in the field in real time. At any given moment, you need to know whether your technicians are available, on the road or providing service. You also need to know whether they're ahead of, behind or in sync with their schedule for the day. With a global view of your teams, you can quickly respond when an unforeseen event or emergency arises.   By monitoring field activities, you can glean important information, such as the amount of time actually spent providing service compared to the time originally planned. You can also collect more general information such as the amount of time a technician or a team worked in a day, a week or a month.   To help you gather this information, Praxedo offers very flexible configuration options for activity monitoring. For example, you can create workflows by scripting the sequence of activities. You can then use these workflows to automatically trigger alerts that are sent to customers so they're aware of service progress. Similarly, field service management software allows you to define which activities are considered "worked" time.
Take the right corrective actions
With a dashboard, dispatchers can monitor key performance indicators (KPIs) in real time to turn information into action. The Praxedo field service management software is available with a Cockpit module that offers pre-configured KPIs such as the number of missed appointments, the number of emergency service requests and the rate at which jobs are being completed, including those that have exceeded the projected job duration.  
React instantly, analyze over time
The dashboard also provides more traditional information such as the number of completed service calls that met the guaranteed restoration time or the guaranteed response time. You can also configure your own KPIs. In all cases, this real-time activity monitoring allows service company managers to respond to problematic situations. They have the information needed to execute the corrective actions required to maintain quality of service.   Dispatchers must also take a step back and coldly analyze the service company's activities. Based on the service history, how is an agency or a technician performing? The KPIs used to measure this performance could be:   – The number of service calls delivered on the originally scheduled date and at the originally scheduled time – The actual duration of service calls as measured in the field compared to the estimated duration during scheduling
Share KPI and SLA data with customers
These KPIs allow you to assess the productivity of field teams and to ensure that service level agreement (SLA) commitments such as the response time, the time required to resolve a problem, or the guaranteed restoration time, are being met.   By sharing irrefutable and agreed upon metrics in a completely transparent way, service companies can help to establish an environment of trust with customers. This is very important because the data can be used to apply financial penalties when KPI thresholds are breached.   The data can also be used to feed into daily, weekly or monthly reports. With this synthesized view, customers can see service performance for a site, or a particular type of equipment, at-a-glance, including the rate of completed jobs and those that met performance guarantees.
Give customers proof of your work
Trust is built on evidence. Field service management software must give your customers complete traceability of the service provided. At the end of the job, technicians take geotagged and timestamped photos of the equipment restored to working order, providing proof that service was successful. Attaching these photos to the service report avoids any risk of litigation.   In general, customers must be informed at all stages of service, from the time the initial service ticket is created through the end of the job when they electronically sign the service report. Field service management software allows you to automate alerts by creating notification scenarios.
Use artificial intelligence and, in the future, blockchain
A scheduling optimization engine that uses artificial intelligence algorithms helps to ensure all busines constraints are considered in schedules. The scheduler inputs all aspects related to contractual commitments into the engine, along with the specifics for the customer account, such as potential service times. The intelligent assistant combines these different data to provide the best possible schedule.   Looking ahead, blockchain could also provide valuable capabilities. Blockchain technology allows transactions to be instantly and securely validated with no involvement from trusted third parties. In service management, the technology would enable a series of actions — from filing an service ticket to invoicing — to be triggered without human intervention to provide customers with complete traceability.
Equip technicians with a multi-purpose mobile application
However, reality starts in the field, and this traceability is only possible when technicians can collect all of the relevant information while on the move. The mobile application associated with the field service management software must allow technicians to capture all of the information related to their profession.   Technicians use a smartphone, tablet or laptop to record the amount of time spent providing service, traveling, taking breaks, and other information. Similarly, electronic service reports can be completed using drop-down menus and check boxes.   All of this data is fed into the dashboard and other reporting tools as well as enterprise resource planning (ERP) and accounting tools so pay slips and invoices can be automatically generated.