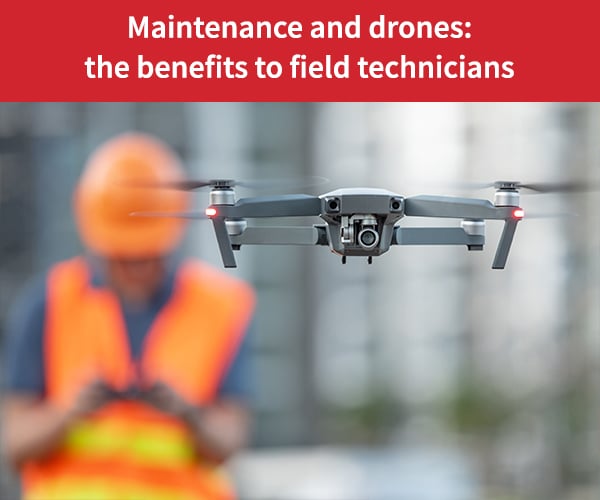 Field Service Management
Maintenance
Gestion d'interventions
IoT
Technology
The value of drones to field service management
Xavier Biseul
Drones can be used to inspect sites that are hard for maintenance technicians to access. And their sensors send back data for real-time analysis. As a result, they offer a number of benefits for maintenance activities. Here's a look at the current state of affairs.
 
Drones are not used exclusively by military organizations or by individuals. Their use in commercial business-to-business (BtoB) markets is rapidly growing. A 2016 study by PricewaterhouseCoopers (PwC) France estimates that the global market will exceed 127 billion dollars in 2020. From security to transport, logistics and agriculture, the use cases are almost endless.
 
According to the study, infrastructure management is the most promising area for drones. Drones allow flights over buildings and structures as well as inspection of industrial sites that are difficult to access or classified as sensitive. Not to mention aquatic drones.
 
Drones are equipped with onboard cameras to enable remote image analysis of incidents. They're also increasingly miniaturized and equipped with thermal and acoustic sensors that provide valuable data.
Economic, security and environmental benefits
Using drones has a number of benefits. For example, it addresses personnel safety issues by limiting the risks maintenance technicians are exposed to and reducing the difficulty level of their work. Technicians no longer have to climb transmission towers or wind turbines to complete inspections. On the environmental front, drones minimize travel requirements for maintenance technicians.
 
There are also economic benefits. For example, drones can collect data without disrupting or stopping equipment operations. Data can be collected faster, and maintenance activities can start right away.
 
Improved diagnostic capabilities
Using drones to complement and augment in-person visual inspections can eliminate the need for a number of preventive maintenance activities that are typically performed by technicians. When service is required, technicians can use the information collected by the drone to better prepare for the tasks to be completed.
 
Finally, drones enhance diagnostic capabilities by giving technicians access to new data, such as thermal data that helps to locate sources of heat loss, and providing data more frequently. In remote locations and dense urban areas, drones can also be used to transport spare parts to job sites.
SNCF pioneered use of drones outside the military
SNCF, the state-owned French national railway company, is a pioneer in using drones for non-military purposes. For example, staff in SNCF's technical centers use information from the aircraft to create inventories of rolling stock and to monitor the condition of the roofs of train cars. Drones are also used to inspect the condition of structures and sensitive equipment and to check the status of vegetation growing along the tracks.
 
In March 2017, SNCF Réseau created a subsidiary called Altametris that's dedicated to commercial drone solutions. Altametris has a fleet of drones and other robots that weigh between 2 kg and 20 kg to support different applications and requirements. For example, airplane drones can cover long distances while more agile multicopters are ideal for stationary flights that are used to capture detailed information.
 
The drones are equipped with high-definition still or video cameras, multispectral infrared thermal cameras or Lidar laser-based measurement technology that can be used to recreate a 3D environment in autonomous vehicles.
 
Structure inspections and 3D modeling
According to Altametris, drones are used in the railway industry to inspect the interior of structures, even in confined spaces, to identify defects — even those on a sub-millimeter level — and to document the damage or carry out a thermal analysis. With these capabilities, the entire roof of a train station can be examined in half a day.
 
When inspecting infrastructure such as viaducts, drones can detect damage and identify defects in real time by scanning the structure. Spatial geo-reference data accompanies a 3D model of the structure. Altametris notes that drones can perform diagnostic assessments on 530 catenary poles in 10 days.
 
The subsidiary of SNCF Réseau prides itself on being the only company in France to have obtained the General Directorate for Civil Aviation (DGAC) exemption for Beyond Visual Line Of Sight (BVLOS) night flights.
Drones accelerate MRO procedures in aeronautics
The aeronautical industry is also fond of drones. Airbus has developed a maintenance solution based on a drone it calls an "Advanced Inspection Drone". The drone is used to accelerate maintenance, repair and overhaul (MRO) procedures.
 
It typically takes about a day to visually inspect an airplane. Taking pictures requires about 30 minutes, then about two and a half hours is required for data analysis. According the website Apps & Drones, a built-in laser sensor and a predefined course allow the drone to automatically move around the aircraft cabin, eliminating the need for a remote drone pilot.
Inspecting infrastructures at high altitudes
The service company Tibco relies on drones to help its staff manage a network of towers, storage silos, water towers, solar farms and wind turbines. These structures include heights that make maintenance challenging.
 
As Tibco explains on its websites, until recently, technicians had to use binoculars to visually monitor structures for rust, damage and missing bolts. And an aerial work platform is required for further analysis. The equipment costs, safety measures and man hours make this approach so expensive, that in the end, little is achieved.
 
Drones that are equipped with the appropriate equipment — high-resolution cameras, sensors for thermography and radio measurements — can take measurements and shoot images from all angles. This makes is possible to detect traces of oxidation, potential cracks and damage related to bad weather.
Technical and regulatory constraints
While companies with professional drones have said they're interested in maintenance services, technical and regulatory constraints are hampering their expansion.
 
On a technical level, the autonomy of drones is still a constraint to their widespread use. Dealing with the considerable amount of data collected can also be very time-consuming if the data must be analyzed manually by maintenance technicians. With artificial intelligence, this analysis can be automated so that technicians are only notified about areas of concern.
 
From a regulatory standpoint, the DGAC has had a framework for use of professional drones since 2012 and the associated French ministry has published a series of rules and by-laws on its website. For example, drone pilots must now take theoretical training in addition to practical training, among other requirements.