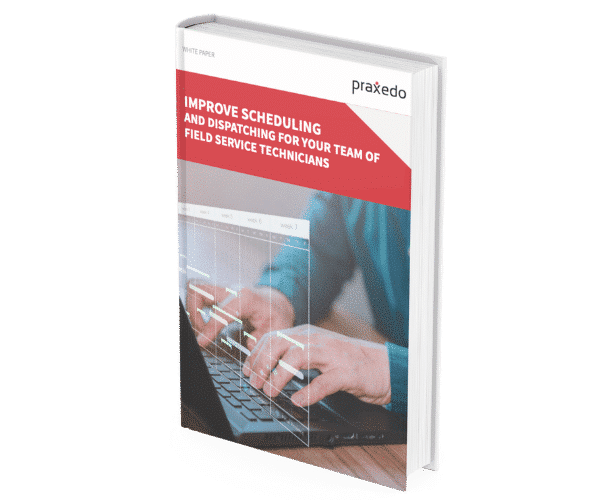 Software
Field Service Management
Technician
scheduling
dispatching
Whitepaper: Improve scheduling & dispatching for your team of field service technicians
Justine Arscott
In today's fast-paced business landscape, the buzzword on everyone's minds is "digital transformation." The challenge, however, is in identifying the right priorities amidst the many tech solutions flooding the market. How do you effectively implement new tools that can propel your operations forward? The answer lies in focusing on initiatives that promise the most significant impact with the least resource investment. One area that stands out for cost-saving and revenue-driving enhancements is scheduling and dispatching. In this blog post, we'll delve into why scheduling and dispatching are the ideal starting points for your digital transformation journey and provide a glimpse of what you can expect in our comprehensive whitepaper.
From Hours to Minutes: Revolutionizing Scheduling and Dispatching
In many field service operations, scheduling and dispatching tasks often devour countless hours. The manual coordination of technicians, resources, and appointments can be a complex, time-consuming endeavor. This is precisely where digital transformation comes in to simplify and streamline processes. Imagine a world where what once took hours can now be accomplished in a matter of minutes. It's a reality that digital transformation can bring.
A Practical Guide to Streamlining Scheduling and Dispatching Operations
Our whitepaper is your roadmap to achieving long-term operational efficiency by tackling scheduling and dispatching head-on.
Here's a glimpse of what you'll find inside:
Pressure Points and Solutions: We uncover why so many FSM companies are feeling the heat and demonstrate how digital transformation can be the ultimate pressure-reliever.

The Ideal Starting Point: Discover why we recommend improving your scheduling and dispatching operations as your first digital transformation project. This strategic move can set the tone for your entire digital transformation journey.

Your Path to Excellence: Our whitepaper provides a comprehensive roadmap for enhancing scheduling and dispatching processes in your business. We'll guide you through each step and explain how to measure progress and outcomes, ensuring that your efforts yield tangible results.

Choosing the Right Tools: Selecting the right software is crucial for a successful digital transformation. Our recommendations and explanations of essential technical terms will help you make informed decisions.