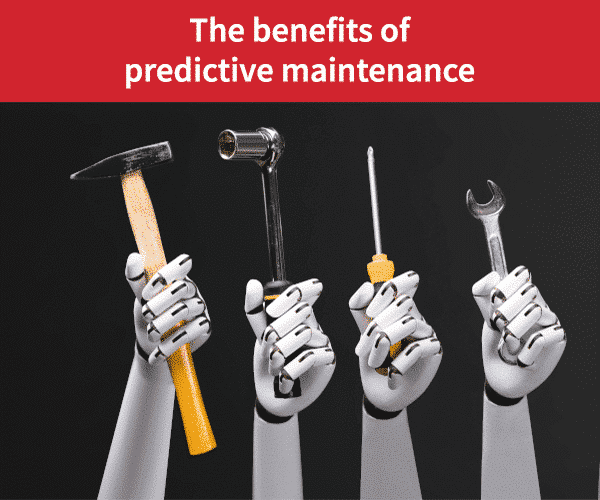 Field Service Management
Internet of Things
Artificial Intelligence
Work orders
Technology
Why predictive maintenance is so great
Xavier Biseul
A growing number of companies have realized that switching to predictive maintenance helps them reduce operating costs and extend equipment lifespan. As a result, there are compelling examples of the benefits in industries ranging from aeronautics and automobiles to railways and energy.
 
As the old saying goes, prevention is better than cure. And predictive maintenance is all about prevention. With the ability to track equipment operation over time and anticipate breakdowns before they occur, predictive maintenance is like a dream come true for service professionals.
 
Predictive maintenance replaces existing maintenance models that are increasingly showing their limitations. For example, with corrective maintenance, the failure has already occurred before anyone steps in to fix it. With preventive maintenance, the maintenance periods are predetermined according to statistics for wear rates, but parts may end up being replaced when they still have considerable life left in them.
IA + IoT = The ideal combination
Predictive maintenance combines artificial intelligence (AI) and the Internet of Things (IoT) to compare real-time data from sensors on connected equipment to the equipment's history. These comparisons reveal the warning signs of potential breakdowns to proactively trigger maintenance activities.
 
Since 2010, several factors have come together to enable greater use of predictive maintenance. Recent advances in machine learning and deep learning have been key. And the decrease in the cost of adding sensors to large numbers of connected objects has opened the door to full-scale industrial IoT strategies.
 
Longer equipment lifespans, less downtime
Now that technologies have matured, companies at the forefront of predictive maintenance are seeing returns on their investments through longer equipment lifespans and less downtown.
 
At the same time, service companies can work more productively. For example, they can optimize management of spare parts inventories by replacing only those parts that must be replaced. On the human resources side, they can operate more efficiently, ensuring the best-suited technician is sent to the right customer site at the right time.
Aeronautics leads the way in predictive maintenance
Aeronautics was one of the first industries to adopt predictive maintenance. After fuel, maintenance is the biggest expense for these companies. With the exponential growth of air traffic, every airline is looking to minimize the amount of time aircraft spend sitting on the ground.
 
The maintenance, repair and overhaul (MRO) market has a bright future. According to the American global management consulting firm, Oliver Wyman, the MRO market is expected to grow from $75.6 billion in 2017 to $109 billion in 2027. It's a lucrative market that applies to every player in the aeronautics chain from airlines and aircraft manufacturers to engine manufacturers.
 
Air France-KLM, an airline holding company based in Paris, sells its own predictive maintenance solution called Prognos. In 2017, the Airbus group launched the Skywise platform, which it uses to collect data from thousands of aircraft in flight. The data is then used by airlines, including British low-cost carrier, EasyJet, to improve operations. Safran Aircraft Engines has taken a different approach, adding sensors to its engines so it can continuously monitor power, temperature and pressure levels. Google, Microsoft, IBM and Amazon Web Services also offer predictive maintenance solutions.
Railways are optimizing and securing aging networks
Other types of transportation companies have different challenges. In the railway industry, aging infrastructure is a major concern. In July 2018, a major fire at a Paris-area electrical center operated by French railway company, SNCF, delayed tens of thousands of travelers, paralyzed traffic, cut power to thousands of surrounding homes and resulted in extensive evacuations.
 
Security is another issue for railways. SNCF has been running a very ambitious industrial IoT program for a few years now. In 2016, the company announced it would invest up to 500 million euros to improve the security of its network.
 
Drones inspect tracks
The improvements start by using sensors to monitor and prevent track buckling and other deformations along 30,000 km of rail lines. Railway switches, level crossings and land bordering tracks are also closely inspected. SNCF also uses drones to identify potential obstacles along the tracks, particularly surrounding vegetation that could interfere with trains.
 
On the infrastructure side, automated monitoring of pantographs — the articulating arms on the roof of electric rail vehicles that conduct the electrical current — help to prevent breaks in the messenger wire, also known as the catenary.
 
Rolling stock is gradually being connected to help avoid breakdowns in air conditioning, which can be very damaging during heat waves. In addition, sensors are being added to sliding doors and passenger seating to optimize replacement schedules. SNCF is also using sensors to optimize operation of elevators, escalators and lighting in stations.
Automation drives the automotive industry
Let's move on from public transportation to cars. The automotive industry hasn't reached the same level of maturity as other industries in terms of predictive maintenance strategies. Maintenance still follows the conventional schedule where an overhaul is recommended every 30,000 km or so and the timing belt should be replaced after five years or 120,000 km.
 
However, the proliferation of connected cars gives manufacturers the opportunity to capitalize on the mountain of data they're collecting to offer remote diagnostic services. Managers of vehicle fleets are particularly interested in this level of data management to optimize vehicle operations.
 
As a wider range of players get involved in the automotive industry, the focus on data will become increasingly important. Apple and Google are already involved with their CarPlay and Android Auto embedded operating systems. And startups, such as Drust and Carfit, are developing technology that can be connected to the car's on-board diagnostic socket or used to analyze vehicle vibrations to anticipate potential failures.
Energy companies benefit from real-time data
With the advent of smart meters, companies that manage energy distribution networks for electricity, gas and water have new opportunities to collect data that can be used to predict maintenance requirements and reduce the number of times workers need physical access to infrastructure.
 
French utility company, Suez, offers software called Aquadvanced that controls drinking water networks in real time, pointing out that "90% of leaks are invisible". Daher, which manufactures high-performance valves for the nuclear energy industry, is using sensors to analyze vibration, temperature and flow levels in its facilities so it can identify degraded performance levels and predict possible failures.
 
In the renewable energy sector, Engie has invested about $14 million U.S. in its Darwin digital platform. The idea behind Darwin is to analyze the data transmitted by sensors installed on equipment in Engie's wind and solar farms. Factors such as the speed that wind turbine blades rotate and the temperature of the photovoltaic panels will be monitored 24/7. According to French financial media, the move will allow Engie to save about $28 million U.S. in operating and maintenance costs in just five years. That's a pretty fast return on investment.