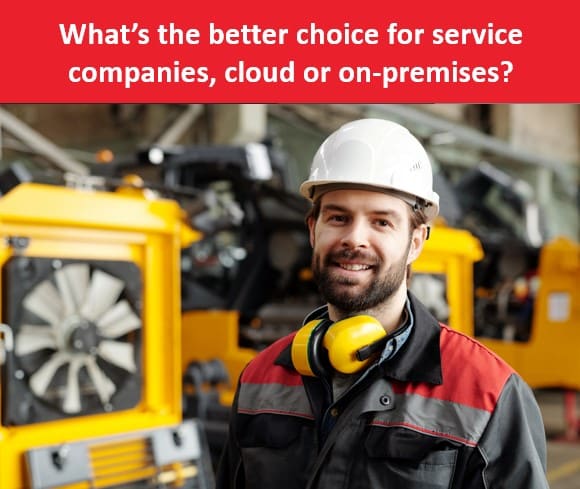 Field Service Management
Mobile App
cloud-based
Cloud vs on-premise: The better choice for service businesses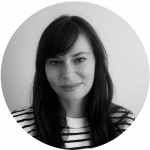 Tania Piunno
There are many factors a service company must consider before choosing whether a cloud solution is right for them. Although in recent years, many have already made the transition, some field service providers still struggle with understanding its true benefits.
In this blog, we'll explore the differences between cloud and on-premises environments and how cloud-based applications are bringing service quality to the next level.
The pros and cons for each
On-premises
The traditional way of storing data is on-premises which includes all IT infrastructure – both hardware servers and software solutions – being hosted in-house, rather than remotely. With on-premises, the organization has more control over the way everything runs which may attract service companies that have internal resources available to manage it.
What this also means is that an IT team is required on hand at all times to support and maintain the infrastructure in the event of an issue. One must also consider the capital expenditures involved when dealing with hardware servers. This can cost significantly higher than hosting data in the cloud.
With today's fast paced world comes more users, more assets, more data to manage than ever before. Unfortunately the legacy way of doing things was no longer cutting it and cloud computing was eventually born.
The cloud
Data hosted in the cloud means a third-party provider handles it for you, offsite. Storage can be added as required, you only pay for what you use, and maintaining the physical environment is not your responsibility.
Cloud infrastructure is made up of several elements or technologies that are merged into clusters called "clouds". Data that is stored can be backed up remotely in regular intervals to prevent any loss of information in the case of a catastrophic event.
The cloud increases flexibility, collaboration and mobility for businesses by bringing together information in one place. SaaS (software as a service) providers leverage the cloud by delivering applications to their customers via the internet, as a service – meaning they provide easy access to their solutions without the burden of managing complicated hardware or software.
An article on cloud computing explains the importance of "automation software and management tools [that] provision new environments so users can access what they need—when they need it".
Take Google Docs for example. This cloud application provides a good user experience, and allows all members of a company to collaborate and edit documents online, in real-time.
Field service management software like Praxedo is similar in many ways, in that it acts as a central hub for your business. You can schedule a job, view work order status, track technician activity, access data, submit reports and send invoices to clients, all in one place. 
There's a lot of information that needs to be protected
Field service companies collect vital information from every customer they visit. They have a customer's contact information, service history, and precise data on pieces of equipment. All of this information needs to be safeguarded.
Cloud encryption
Documents stored on cloud servers are encrypted, meaning the text is intentionally scrambled, making the information unreadable to potential hackers. Considering the personal information that service businesses manage, cloud encryption is absolutely necessary.
Business owners who have yet to transform to a cloud-based, paperless environment may fear the cloud for reasons like privacy and security, but here's the reality. Data that is stored in the cloud, on servers housed in datacenters that not many people have access to is probably safer than what is stored on-premises.
Through regular security updates, built-in firewalls, back-up servers, artificial intelligence and more, cloud providers are making the information virtually impossible to hack.
Why service businesses need cloud solutions
In a faced-paced business world, service companies are dominating their markets with the implementation of new strategies. They are leveraging technology to respond to customers more promptly, simplify work for their technicians, speed up invoicing and altogether, move faster.
Every business now knows the power of being adaptable to change, after the rapid turn of events the entire world experienced just 2 years ago. Businesses who couldn't adapt fast enough were hit hard, and many were forced to close their doors. In this post-pandemic world, you need to be able to change. Be flexible. Adapt and innovate, to provide better service to customers and thrive in global economic uncertainty.
Implementation times are faster
Cloud technology is designed to allow businesses to scale with no downtime. As service companies scale up and down depending on projects, seasonal spikes, etc, SaaS providers already have the infrastructure in place, ready to deploy in days, not months. In fact, the speed advantage is a big reason why service businesses have moved to the cloud. Praxedo's unmatched implementation times and scalability have received recognition in Gartner's Magic Quadrant several years in a row.
3 key benefits of cloud-based field service management
1. Keep everyone aligned
Cloud-based solutions allow administrators in the main office, service managers, business owners, and mobile teams to easily connect to a central hub of information, at all times, from anywhere. Information is updated and displayed in real-time for everyone to see and stay up-to-date.
2. Facilitate life for employees and customers
Cloud-based field service software empowers field technicians with mobile tools that make work life easier. With the help of a mobile app, information related to any work order can be managed effortlessly by all parties. Ultimately, it frees up more time for technicians to focus on quality of service.
Keeping customers in the loop with instant notifications that are sent when a technician status changes is also highly beneficial. For example, if the field tech is on the way, an alert can be sent directly to the customer so they can anticipate their visit.
3. Always be ready for the future
Agile companies are the most resilient due to the ability to stay ahead of their competition. "Future-ready" companies tend to focus on speed – the speed at which they do things internally, and the time it takes to respond to requests externally. The cloud technology they use extracts the complexities for them, making processes smoother, work simpler, and customers happier.
The better choice for service businesses is Cloud
Praxedo's cloud-based field service management software brings more flexibility to service teams. A rich feature-set is available for the office, and the field, and the software can be interfaced seamlessly with third-party applications. The web application for the office uses a set of tools to automate dispatching, track activities in the field in real-time and allow administrators to make more informed business decisions. The mobile application for the field equips technicians with a tool guaranteed to simplify jobs, capture time and maximize efficiency. This combination provides service organizations with a highly configurable solution, adaptable to any industry.