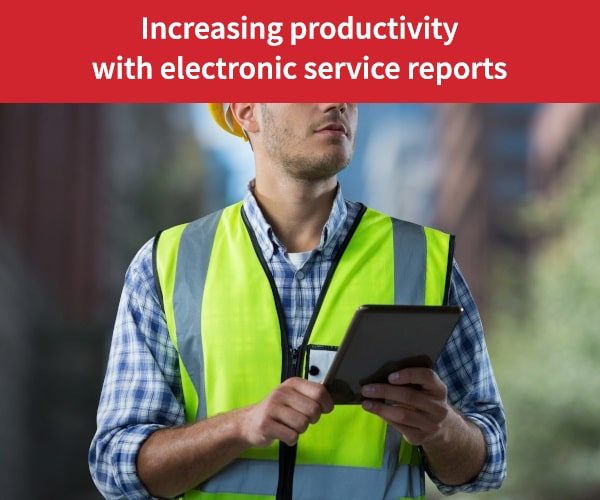 Productivity
Mobility
Technician
Mobile app
How electronic service reports increase productivity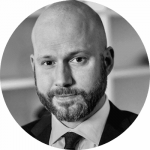 Kieran Le Peron
Companies that specialize in providing services are perpetually looking to increase productivity. Equipping field technicians with a specialized mobile app that allows them to easily complete service reports in the field is a very effective way to achieve those productivity gains. Reports can be completed faster, they're more accurate and they can be used immediately.   Here are just a few of the ways switching from paper to electronic service reports helps service companies achieve rapid and substantial productivity increases.  
Technicians no longer have to worry about complex admin tasks
The actual time technicians spend working in the field is all too often cut short by administrative tasks. Throughout the day, technicians have to consult large manuals and fill in complex service reports. But completing these forms is tedious and time-consuming for technicians, especially if they don't like writing. Technicians often want to get these parts of the job over and done with as quickly as possible, leaving reports that are sometimes illegible, incomplete, or both.   It can take days, a week or more for these administrative forms to be hand-delivered back to the service office. Then someone has to re-enter the information in company systems. Poor quality service reports hamper their efforts, and they often have to ask technicians for more information on particular points that are unclear or incomplete. Sometimes, service center staff have to wait for technicians to return to the office to get the answers they need. In short, a lot of time and energy are wasted.   These pitfalls can be easily avoided by providing technicians with a mobile business app that's designed to simplify their daily tasks.  
Give technicians a specialized mobile app
There's a lot of field service management software available on the market today, with options for every budget. In many cases, the software provides service scheduling capabilities as well as an app that can be downloaded to any mobile device. The mobile app allows field technicians to keep everything that would be on their desk in their pocket, with all of the elements necessary for successful service.   Technicians on-the-move can use the mobile app to see their schedule for the day or the week as well as all of the documents and information required for each job. Most importantly, it provides pre-configured service reports that are tailored for each type of service the technician provides. This is how the Praxedo mobile app works anyway.  
Pre-configure service reports
A mobile app for technicians lets you move away from paper to take advantage of electronic service reports that are pre-configured for the different types of service you offer, the types of equipment involved and your customer base. There are numerous options that make it fast and easy for technicians to complete service reports.   Because the mobile app is connected to your information system, report forms can be presented to technicians with some of the fields automatically filled in based on the service being provided.   You can also choose how each field on the form is completed: check box, drop-down list, text field, photo attachment and other options.  
Make service reports fast and easy to complete
Using the electronic service reports is easy. Even technicians who are not expert smartphone users can quickly find their way around. The electronic form guides technicians so they can easily complete the different fields. And fields can be made mandatory to ensure they're not omitted.   The advantage of an electronic report form is that it minimizes, if not completely eliminates, technician input errors compared to paper reports.  
Help technicians free up time for service priorities
Equipping technicians with a mobile app and electronic service reports allows them to save considerable time throughout their day and to focus on their top priority: providing the required service.   These time savings also benefit customer relationships. Technicians have more time to listen to customers and to communicate with them — significant factors when assessing quality of service. When customers feel they're being listened to and considered, they're more easily satisfied, and as a result, more loyal.
Electronic service reports provide traceability
Beyond the speed and reliability of entering information, the other key advantage of electronic service reports is that they ensure infallible traceability of the service provided.  
Track all stages of service
With a field service management solution, and its essential component, the technician's mobile app, you can keep track of all stages of service, from taking the customer's request into account to completion and validation of the service provided in the field.   With digital tools, you can preserve all data related to the service provided. This traceability can be very useful in the event of a dispute with the customer — for example, if the technician provided service, but none of the customer's staff were onsite, or if proof of compliance with contractual agreements with customers and prime contractors is needed.   When the invoice is sent, you have all of the information needed to justify the costs to customers. Some mobile apps even support electronic signatures so the customer can validate the service provided while the technician is still on-site.  
Simplify data reporting
Thanks to the technician's mobile app and electronic service reports, the information technicians enter is transmitted directly to your company's information system.   This instantaneous data transmission makes it faster and easier for administrative staff who are responsible for invoicing to complete their tasks. With a connection to your invoicing software or enterprise resource planning (ERP) software, they no longer need to wait for technicians to return to the office to receive forms and prepare invoices. Everything can be done quickly.
Go digital today
Service companies have everything to gain by switching to electronic service reports: reduction, and even elimination, of data entry errors, infallible traceability and instantaneous data transmission for accelerated invoicing, and therefore, cash savings.   Companies using Praxedo's field service management software and mobile app have seen billing times reduced from weeks to hours.   So, when are you going digital?