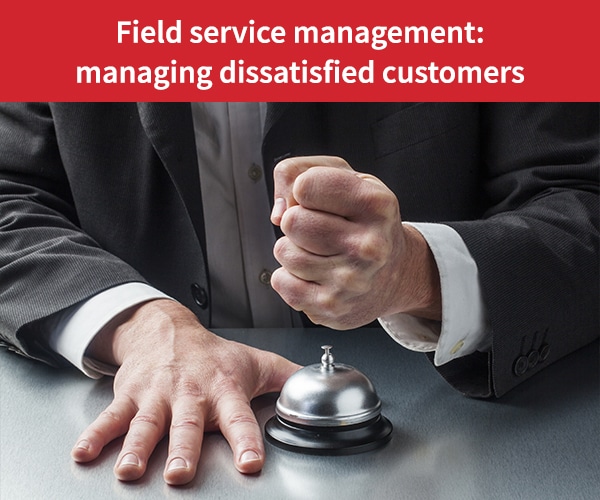 Field Service Management
Customer Satisfaction
Technician
Technicien
Work orders
Customer satisfaction
How to "manage" angry customers in field service management
Xavier Biseul
On-site maintenance technicians are regularly called upon to meet with extremely stressed customers. The key for technicians is to know which behaviors to adopt and how to manage crisis situations.
 
Customers may be stressed for any number of reasons — perhaps defective equipment stopped a production line and the revenue that goes with it. If technicians are awaited as though they are the Messiah, they may receive an unfriendly welcome as customer anger is transferred to them.
 
Technicians are the ambassadors for maintenance services so they must know how to manage these difficult situations. It's all about customer satisfaction. It's well known that dissatisfied customers share more about their experiences on social media than satisfied customers. That means technicians must have natural listening skills, empathy and kindness.
 
Technicians must combine these interpersonal skills with an ability to manage their own stress, which we know is transferable. There are plenty of sources of stress in this job, from being on the road all the time to working shifts, being on-call during nights and weekends and performing maintenance in noisy and cramped environments.
 
In addition to their natural qualities, technicians must also be trained, or at least educated, in how to adopt the right behaviors when they have to manage difficult customers. The ISO 10002: 2004 quality standard is dedicated to handling customer complaints.
Listen and keep your cool
It's critical that technicians listen to customers, allowing them to explain the problem in detail without being interrupted, even if they understand the situation in the first few seconds. This allows the customer to offload their problem. Technicians can take notes to show they're taking the complaint seriously and to document the issue.
 
Technicians must always retain their composure, even if customers hurl insults or issue threats. Solutions can only be found within the framework of respectful and reassuring conversation.
 
Take the opposite approach
Technicians must react in the opposite way to customer anger. If the customer raises their voice, the technician must speak quietly. If the customer is insulting, they must maintain courteous language. At no point can technicians criticize customers. The phrases "no, it's not true" or "you are wrong" should be avoided. There can be no value judgements; technicians must stick to the facts.
 
It's also important for technicians to be aware of their non-verbal communications as their body language can betray them. Even a small smile tells customers their problem is not being taken seriously, worsening the situation. The key is for technicians to maintain focus on their objective, which is to determine the real cause of the dissatisfaction.
Bring the customer back to rational thought
When the customer has finished presenting their situation, technicians can ask additional questions and rephrase the problem to ensure they understand it. It's important to remember that angry people want to express their dissatisfaction and may forget about the factual aspects of the problem. It's up to technicians to bring them back to a rational thought process.
 
The customer's anger may be tied to rational or irrational factors that go beyond the stress of the current equipment breakdown. For example, it may be motivated by a contractual breach, such as non-compliance with response times, or by multiple failures on the same piece of equipment.
 
If technicians are part of the problem, they must make amends and explain themselves. Maybe their delayed arrival time was due to a traffic jam and they can prove it. If the problem is due to previous service — an incomplete maintenance operation, for example — technicians should not criticize their colleague, but apologize on behalf of the company.
 
Because the latest generation of field service management software provides details about all service carried out at a site, technicians can also use their smartphone or tablet to see the history of disputes related to the account.
Find a way out
Apologizing is good, but it's not enough. Technicians must find a way out of the problem. To do this, technicians can be empathetic, explaining that they're putting themselves in the customer's shoes and that they understand their sentiments. They are reassuring without making false promises. Otherwise, their efforts could be counterproductive and amplify the customer's anger. Technicians must speak in a transparent, sincere and honest way.
 
Determine the type of customer you're dealing with
Technicians must also use a little psychology to determine the customer's personality type. Although the vast majority of customers are justified in their anger, others have a bad habit of managing their providers through stress by creating a climate of permanent tension.
 
Other customers exaggerate the problem in a bid to seek financial compensation. In these cases, technicians must remind the customer they are not authorized to make these types of financial decisions, but can refer the case to the appropriate department.
 
If the conversation become circular with no possible outcome, technicians must find another contact. Using the grounds they need to get details about the breakdown, technicians can ask to speak to a more technical employee who is familiar with the problem from a maintenance perspective.
 
Conversely, technicians can involve an expert or team leader from their company in a phone or web conference with the customer. Introducing a third-party mediator very often lowers the tension. As if by magic, customers will reexplain the problem, but in a more concise and less heated manner.
 
Whatever path the discussion takes, maintenance technicians should, as much as possible, end on a positive note by reiterating the plan to resolve the problem. Once the tension is lowered, customers can put the situation into perspective and take the drama out of it. Technicians can use the field service management software to ask the customer relationship manager to call the customer back to check on the problem. And all is calm again.