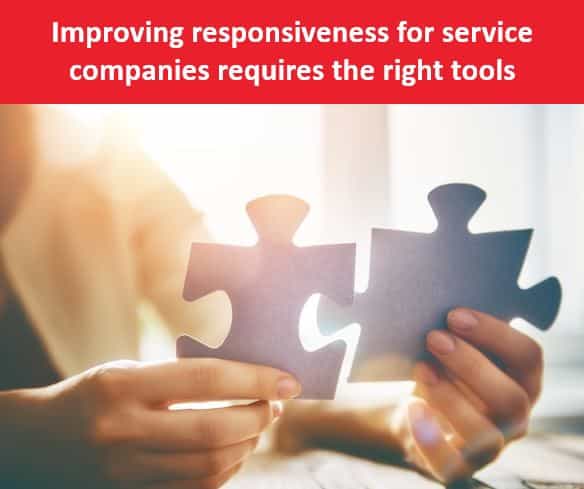 Mobile App
Work orders
service companies
responsiveness
Improving responsiveness with an intuitive scheduling tool and mobile app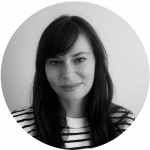 Tania Piunno
Efficient scheduling is a result of optimal responsiveness and productivity. To achieve this, dispatchers that oversee field operations must be able to plan the best possible routes and schedules for each of their field technicians.
Optimized scheduling largely depends on an intuitive field service management tool. In fact, the key to managing activities in today's competitive market is the combination of robust SaaS software and a flexible mobile application. The two together, make service businesses more profitable and productive by improving response times and optimizing workloads.
Scheduling software – your technicians' trusted ally
The primary benefit of a scheduling software package (that includes a mobile app) is that it makes life much easier for your field technicians, auditors, and drivers. Fiber optic installers and telecom equipment maintenance professionals for example, put this into practice on a daily basis.
Making the most of optimized workloads
As a service business, you should be able to enter data related to your routes and process it to optimize all aspects of your business. Through an intuitive dashboard, software helps manage the following information:
Number, type, and location of field service calls
Contact details and availability of customers
Available technicians and their skills
Equipment required to carry out the work order (spare parts)
Technician location through GPS
Real-time traffic conditions
Based on this data, your software, which is entirely customizable makes constant calculations and adjustments to provide each technician with an optimal schedule. It allows for better time management by reducing travel periods and maximizes employee billable hours. It also anticipates activity peaks and increases productivity across the board. Since your teams will spend more time in the field than in their vehicles with the help of this technology, they can focus on the quality of service they provide, without having to worry about logistics.
How to boost responsiveness and motivation of your technicians
Employees equipped with intelligent management tools that provide them with all the information they need throughout the day are naturally more efficient on the job. Real-time monitoring of their daily schedules – factoring in emergencies and unforeseen events – makes them extra responsive.
They can easily communicate with the central office in a few clicks in the event of a problem or pressing question. Coordination between employees and dispatchers is made easy via instant messaging and continuous support.
Knowing that the management of remote teams is one of the main challenges service companies face today, a software in SaaS mode allows you to build quality relationships with your employees through the following techniques:
individualized attention to each technician
fully open communication channels
increased responsiveness from dispatchers
Helping dispatchers optimize routes
The # 1 tool for optimizing service routes
When it comes to travel time, Cloud-based software is ideal for planning routes in a few clicks through algorithm-based AI technology. An intelligent planner such as the Praxedo SmartScheduler, analyzes operating constraints on both a customer and technician level. Scheduling, which was once considered a big headache, has become really easy to manage as the most optimal schedule is just a few clicks away.
Improved responsiveness through real-time work order tracking
Using a map, the service center can monitor the status of the various work orders completed in the field by technicians in real time. This collection of data relating to key performance indicators (KPIs) of your choosing such as service time, technician punctuality, and first-time fix rate, ensures effective responsiveness from both dispatchers and technicians.
Scheduling software to boost performance
How to increase productivity with your mobile application
Through a more accurate and real-time view of your employees' routes, the business becomes more receptive to customer needs. A dispatcher can respond within seconds to the cancellation of a work order by a technician, by quickly identifying the nearest employee who is available and has the required skills to complete the job. Meanwhile, the customer was unaware of the possible "hitch".
The fact that you can almost always match the right technician to the right job, at the right time will inevitably improve your operational performance. According to a recent Aberdeen Group study, leading service companies reap the benefits of focusing on service optimization by an increase of:
17% in turnover
19% in customer satisfaction
27% in productivity
Choosing to save significant time and money with an app for your mobile workforce
Time is money when it comes to managing field services and intelligent scheduling reduces vehicle maintenance fees, fuel costs, and round trips between the main office and customer locations, to name a few. In addition, we mustn't forget the savings associated to not having to buy paper.
Scheduling software to improve relationships
A smart scheduling alarm company software makes your business more agile, instantly improving customer relationships. Through real-time analytics with advanced configurations, service managers can point out what is and isn't working to be able to adapt accordingly and provide the best quality of service possible.
Customers are kept in-the-loop with notifications such as when the technician is scheduled to arrive and receive detailed work order reports after every service call. Customers also have the ability to schedule a work order themselves when needed and access relevant information through a dedicated portal. Providing them with tools that give them more control builds trust and increases loyalty.