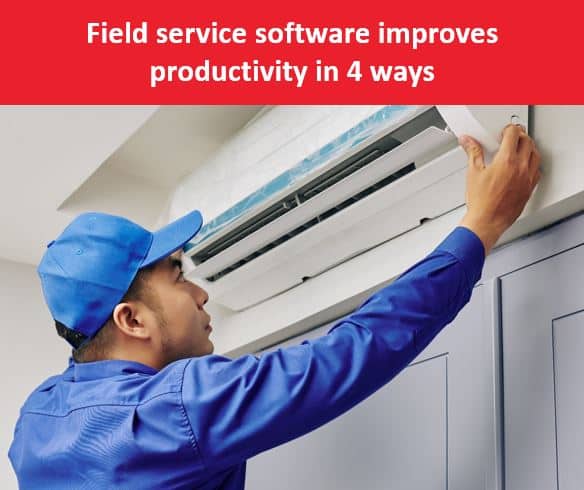 Productivity
Field Service Management
Customer Satisfaction
4 ways to improve productivity with field service software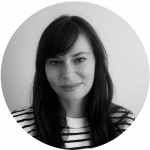 Tania Piunno
Service companies have to deal with many challenges throughout the day including having to manage multiple technicians at various sites, keeping customers happy and staying profitable – all simultaneously. But the tools they're currently using to manage their operational processes don't always provide the best visibility into where the issues are and how they can be improved.
For one, lack of real-time communications can negatively affect the interactions your technicians have with customers. Not having enough history on the equipment being serviced means technicians show up unprepared. Not equipping them with a mobile app that tells them where to go, when and why, can impact emergency response times. And not being able to generate digital work order reports that are sent directly to customers as soon as the work is complete can place your business behind everyone else.
With so many moving parts, field service businesses can't afford to miss out on new opportunities or lose their current customers. This is what makes field service industry software so important in today's competitive landscape. It's a tool that creates, manages, and schedules work orders faster and more accurately, so that employees can spend less time on administrative tasks and more time building solid relationships with their customers.
Here's our take on how field service management (FSM) software can streamline operational processes for your business and help you stay ahead of the curve.
1. Enhance service quality
Every service company's main objective is to provide high-quality service solutions to maintain the satisfaction of their loyal customers, whether they're small businesses or large enterprises. In using field service management software, these businesses can dedicate time and energy on what really matters. Administrative work can be performed in less than half the time and scheduling, work order management, and daily reports can be conveniently managed in one place.
No matter the industry, service quality is always positively impacted by digital transformation. Streamlining processes and moving data to the Cloud offers a boost in agility and operational efficiency that paper-based processes aren't able to provide. With data analytics, managers need to worry less about how well their business is performing or how much money they might be losing.
Technicians on the road have mobile apps with them every step of the way to guide them toward the right location, help them take the fastest route, and grant them access to vital information whenever they need it. Additionally, digital documentation entirely removes the potential for human error which translates to better engagement with customers.
2. Boost communication
Better communication means delivering more value to customers. In turn, they can become advocates for your business that recommend their friends to connect with you.
Provide intelligent tools to your most valuable assets
The most critical asset to a service company is their mobile team. Field technicians provide on-site support and if truth be told, represent the face of your company. They rely heavily on up-to-date work instructions and customer information to be able to do the work right.
A field technician that is fully connected to work order data will be more efficient at customer locations. And, facilitating communication between management at the office, customers onsite, and other technicians through a mobile device not only simplifies their lives but also drives them to put their best face forward.
Real-time communications drastically improve response times. In the service industry, emergency jobs are common. Critical industries such as medical equipment maintenance or corporations that provide energy and utilities, can't afford to have their networks and equipment down for long (or down at all for that matter). With company data at their fingertips, field technicians that handle services for these industries can efficiently serve customers without delay. Having an adequately informed field technician results in better-informed practice, increased productivity, and quality assurance.
3. Smooth scheduling
Nobody likes to get behind schedule, especially when your company's reputation is on the line. Without field service software, a typical day for a field technician involves sitting in their truck for 20-30 minutes to finalize their paperwork between jobs, causing delays. In the event of an emergency repair, the dispatcher must call every field technician to identify who is closest to the emergency situation. Providing all instructions on the new work order is an additional hassle.
Field service software removes these steps completely, by allowing the dispatcher to view and assign jobs in one place based on skill sets, location, and other parameters that are entirely customizable. Advanced scheduling functionality lets you drag and drop to reassign the work, and information is instantly synched, alerting technicians of the changes in real time.
With optimized schedules allocating resources is done in the most efficient way. And service managers can slice and dice the information they see on their technicians' schedules and performance in a single view.
4. Proactive/preventive maintenance
As humans, we make mistakes, and that's okay, however the reality for the service industry is that the slightest error can affect the business' bottom line. Mistakes such as equipment malfunctions and downtime can be prevented through proactive/preventive maintenance practices.
Being proactive with field service software 
Proactive maintenance seeks to understand a potential issue before it happens, so that the company isn't left with an emergency situation to deal with. Setting up regular maintenance plans for customers helps extend the life expectancy of their equipment while eliminating expensive diagnostic tests, saving them money long term. Being proactive about potential shortcomings can be the key to a successful business and satisfied customers.