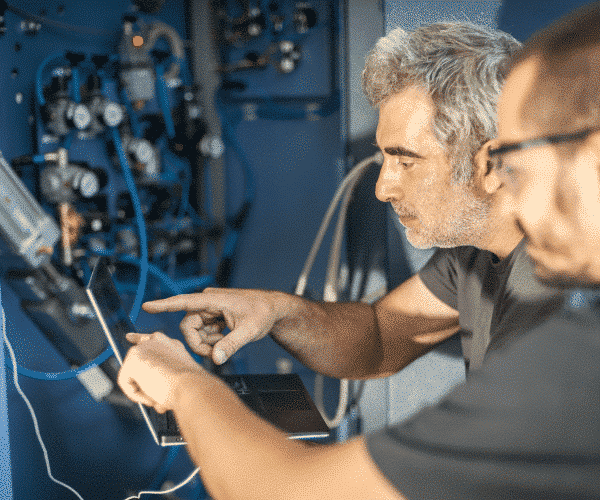 Field Service Management
digital transformation
Why Field Service Companies Are Under So Much Pressure
Justine Arscott
Why are field service companies under so much pressure? As an operational leader at a field service organization, you've probably noticed that this year, in particular, has been a time of rapid technological acceleration. The driving force has been the acceleration of artificial intelligence (AI) and machine learning. AI/ML capabilities are becoming increasingly sophisticated, and software companies are receiving a wave of funding from investors. There's a wave of innovation happening as a result.
But what do these trends mean for your routine operations? How do you know if you're ahead of the curve or lagging behind?
To answer these questions, it's helpful to take a step back and reflect upon the big-picture forces impacting the industry as a whole. Here's a look at key trends you'll want to keep in mind as you develop the technology roadmap for your field service operation.
The market is growing
According to Allied Market Research, field service management, defined as the practice of dispatching technicians to install, repair, or maintain systems or equipment, is a growth industry with a compound annual growth rate (CAGR) of 19.2%. There are a few reasons why, according to the Allied study:

Digital acceleration is increasing the demand for services

Customers are more involved in field service management processes

Technical infrastructure is creating heightened demand for data

Innovation has opened the door for field service companies to deliver new services
A growing market creates opportunities for field service businesses to expand and tap into new sources of revenue. But meeting demand is not always easy.
Operational constraints are rising
Research from TSIA confirms that in light of a shifting market, field service teams are struggling with productivity, budget management, and overall efficiency.
"The combination of business model disruption, post-pandemic recovery, and the current economic uncertainty is impacting the tried-and-true corporate playbook of initiatives making them less effective and, at times, negatively impacting capabilities critical to future success," explains TSIA's State of Field Services 2023 Report.
Given these challenges, there's a need for field service operations leaders to improve upon best practices. There's a talent shortage; however, which means that technology will play a critical role in this process.
Digitization is rising in importance for customers
Consumers are becoming increasingly accustomed to self-serve portals, in-app tutorials, chatbots, and DIY services for troubleshooting, according to research from Deloitte. As a result, field services organizations that don't embrace digitization are likely to get left behind.
Deloitte explains that the adoption of technology will position field service organizations as trusted advisors to customers rather than just solutions providers. Data is at the center of an approach focused on customer experience.
Final Thoughts: Embracing Digital Transformation
Every field organization needs to develop a digital transformation roadmap. The question is how.
One approach is to begin addressing known time sinks and operational inefficiencies. Most likely, there are low hanging opportunities within an organization to save time and conserve costs overall.
As an example, organizations that use spreadsheets or other manual methods for scheduling and dispatching may be wasting time or financial resources without realizing it. If your field service team is looking for a digital transformation entry point, our team at Praxedo can help. 
Discover the Praxedo advantage
Praxedo has been a trusted provider of field service management (FSM) solutions for companies across the globe since 2005. Our success is attributed to our unwavering focus on delivering the best FSM tools in the market. Unlike other providers, we don't aim to supply all enterprise applications. Instead, we prioritize our expertise in FSM and offer a cloud-based solution that streamlines deployment from start to finish.
Today, more than 1,300 companies including large enterprises and SMBs, and 40,000 users across the globe rely on Praxedo daily to optimize their field service operations. Our solution enables them to increase productivity, optimize resources, and facilitate seamless data exchanges between field personnel such as technicians and engineers, and their dispatchers.
Want to learn more?  Schedule a demo today.