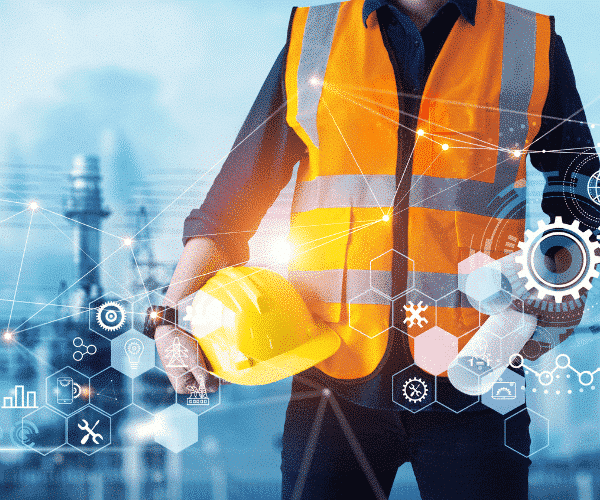 IoT
Technology
Field service
telecommunication
digital transformation
Digital Transformation in the Telecoms Industry
Justine Arscott
A raft of new technologies, such as cloud computing, data analytics, the Internet of Things (IoT), and artificial intelligence, has emerged in the past few years and has dramatically changed how work gets done. A similar theme is playing out in telecommunications network design, where 5G and Software Defined Networking (SDN) offer carriers a more flexible and responsive communication infrastructure. Consequently, telecommunications suppliers need to embrace digital transformation as soon as possible. Here's how.
Digital Technologies Drive Change in Telecommunications Industry
Telecommunications companies found themselves navigating through a rapidly evolving market landscape, as the focus shifted from merely providing network bandwidth to delivering value-added services. Meanwhile, bandwidth-intensive activities such as remote learning, gaming, and videoconferencing experienced explosive growth, further complicating the situation. In the face of these challenges, telecommunications service providers encountered significant difficulties in adapting to the changing landscape.
Digital transformation presents an unparalleled opportunity for telecommunications companies to reinvent and revitalize themselves. 
Cloud computing offers simplified application deployment and cost savings, while also providing the much-needed flexibility for telecom operations.

IoT enhances management capabilities by offering visibility into equipment health, enabling proactive maintenance and improved operational efficiency.

Big data technology empowers telecom companies with accurate and real-time business insights, aiding in better decision-making and strategic planning.

Robotic Process Automation (RPA) streamlines back-office operations, optimizing efficiency, reducing errors, and enhancing overall productivity.

Social media platforms provide telecom companies with novel avenues to engage and interact with both service consumers and businesses, fostering stronger relationships and driving customer satisfaction.

Artificial intelligence (AI) and machine learning (ML) form the bedrock for revolutionary, automated data analytics applications.
These technological advancements act as the fundamental building blocks for driving internal digital transformation within the telecom industry, enabling companies to embrace innovation, adapt to changing market dynamics, and unlock new levels of success.
The Long-term Effects of 5G and Software Defined Networks For Telecoms
Digital transformation is taking place on a dual front, particularly within the networks of telecommunications companies. Traditional telecommunications equipment, characterized by its hardware-based and proprietary nature, poses challenges in terms of maintenance. However, the emergence of new virtualized software systems has paved the way for their transition from research labs to full-fledged production. These systems not only enhance the operational efficiency of service providers but also present an opportunity to diversify their offerings and deliver lucrative new services.
The advent of 4G networks revolutionized the lives of consumers and businesses, offering unparalleled convenience and simplicity. The connectivity provided by 4G has made their lives more meaningful and productive. Building upon this foundation, 5G networks take the experience to new heights by delivering faster speeds, superior connection quality, and cutting-edge edge capabilities.
Consequently, the demand for high-speed networks has surged. Software-defined equipment enables carriers to modernize infrastructure management and replace inefficient manual processes with new automated features. By doing so, they gain a more agile and manageable infrastructure, capable of supporting sophisticated communication services.
Digital Transformation's Importance Increases 
Telecom services play a crucial role in connecting people. To overcome the business challenges confronting the industry, Communication Service Providers (CSPs) must embrace rapid digital transformation. 
Previously, telecommunications companies primarily provided network infrastructure to facilitate information exchange among individuals and businesses. However, in the present era, they are moving beyond traditional connectivity and venturing into platform-based products. These products are integral components of comprehensive ecosystems that support a wide array of value-added services. In essence, telecom companies are transforming into technology companies (techcos), not just delivering bandwidth but also the applications using it.
Building a New Business Model 
By capitalizing on this model, telecom companies revitalize their business opportunities, steering away from commoditized markets and venturing into areas with higher profit margins. This strategic shift positions them for future success, as they leverage new technologies to gain a competitive edge. By harnessing the power of 5G, edge computing, and software-defined technologies, they create innovative services that cater to both business and consumer opportunities.
Instead of merely providing commodity bandwidth, these companies transform into service-centric telecom operators. Their agile, digital-first infrastructure aligns with the expectations of digital natives, enabling them to effectively support new, complex, and high-bandwidth services like mobile commerce, cryptocurrency, Augmented Reality (AR), and Virtual Reality (VR). With a flexible infrastructure in place, they are fully equipped to meet these evolving demands. Through premium, customized products and seamless connections, they deliver unparalleled customer experiences, solidifying their position as industry leaders.
The Benefits Of Digital Transformation In the Telecommunication Sector
Moving from legacy to digital technologies offers a multitude of benefits, including the reduction of friction, streamlining of business processes, and improvement of services in numerous ways.
Cost is a prime consideration in any business, and the value of human capital is rising as the market experiences a shortage of skilled workers. With the implementation of new AI solutions, carriers can delegate manual tasks to intelligent systems, thereby enabling advancements throughout their entire operation.
Telcos gain the much-needed flexibility through modern products that allow changes to be made via software, reducing reliance on traditional manual input. Service providers can allocate bandwidth and provision services faster than ever before, while also personalizing services to a greater extent.
Network monitoring is enhanced as carriers deploy new solutions, resulting in increased network complexity. Intelligent management tools leverage features like data analytics to optimize network uptime. Unlike legacy systems where carriers only managed problems after they occurred, management now becomes proactive. Telecommunications service providers collect performance information, analyze it, recognize patterns, and make changes before problems arise.
Networks become more scalable, dynamically allocating bandwidth to match the ebb and flow of traffic volumes, maximizing resource usage, and providing telco customers with satisfying experiences.
Carriers embrace the digital customer experience by complementing customer representatives with chatbots and social media interactions, streamlining communication with clients.
Cost-effectiveness improves in areas such as field service, as cloud-based field service management software replaces legacy systems. These software solutions encompass everything needed from the initiation to the completion of a work order, supporting various user interfaces such as web applications for the office and mobile applications for field technicians. As a result, employee productivity increases, and equipment operates more efficiently.
What Challenges does Digital Transformation Pose? 
However, the adoption of this new model presents several challenges. Digital transformation in the telecom industry encompasses every aspect of the business, extending beyond technological changes to impact the executive team as well as rank and file employees.
Therefore, succeeding in this transformation requires changes in organizational culture and operations. Carriers must make a wide range of difficult choices, including areas such as service delivery, operating models, and customer services. They must retool their infrastructure, enhance data gathering and security measures, and revamp their service portfolios.
Technical issues are abundant as telecom companies navigate a more complex business landscape. For example, integrating new Over-the-Top (OTT) services into their existing legacy portfolios.
Service providers need to transition from legacy, single-purpose customer relationship solutions to embrace new 360-degree omni-channel customer experience management.
Additionally, they must modify their business models, allocating revenue to new alliances and collaborating with new operators to gain flexibility.
Implementing these changes can be challenging as they often pose a threat to employees. It is crucial to involve employees from the outset and guide them through the process to ensure a successful transition.
How To Undergo A Telecom Digital Transformation
Telecom companies require a well-defined migration plan consisting of a series of steps to guide them from their current state to their desired future state. Given their limited experience in various emerging domains, these companies must seek partnerships with others possessing the necessary expertise.
The journey ahead is difficult, which will necessitate flexibility and the ability to adapt as circumstances require.
Digitalization Level Upgrade: Latest Trends In The Telecom Industry
The telecom industry is undergoing a process of digitalization aimed at streamlining communication services, improving efficiency, and reducing costs. Telcos are revamping their networks, embracing new technologies, migrating workloads, and enhancing data collection and analysis capabilities. Moreover, the industry is evolving its customer experience by adopting diverse service models and implementing comprehensive 360-degree omni-channel management. Although the industry is experiencing a significant upheaval, it is a necessary step to ensure long-term viability.
Rise of the Digital Telecom
Therefore, telcos must rapidly embrace digitalization and prioritize customer and employee experience, efficiency, agility, and revenue generation. Telecommunication service providers have a unique opportunity to monetize their assets and infrastructure by developing virtual platforms, leveraging AI alongside real-time orchestration capabilities, and reducing the costs associated with delivering seamless and ubiquitous connectivity.
The urgency of this profound and accelerated reinvention provides telcos with a blueprint for a faster and leaner new operating model, made possible by the rapid evolution of technology and changes in customer behavior. This transition places telcos at the forefront, particularly as human interaction has shifted online, and has since remained in that digital space.
To adapt to the rapidly changing digital landscape, telecom companies must adopt strategies that enable them to address data challenges, accelerate digital initiatives, and optimize network infrastructures. The reason for making this change is clear: digital transformation makes business sense. By embracing it, telecom companies have the potential to generate up to US$1.5 trillion in profits over the next ten years.
The emergence of new technology plays a crucial role in telecom digital transformation. Recent market developments have weakened the market position of telecommunication providers. However, by embracing digital technology, they can deliver convenience, security, stability, and coherence to customers, gain a competitive edge, and lay the foundation for future success.
---
For further resources, head to our blog on How field service management software addresses challenges for telecoms operators 
For more information about how our solution can help your organization, request a demo
About
Praxedo has been a trusted provider of field service management (FSM) solutions for the world's leading telecommunications providers since 2005. Our success is attributed to our unwavering focus on delivering the best FSM tools in the market. Unlike other providers, we don't aim to supply all enterprise applications. Instead, we prioritize our expertise in FSM and offer a cloud-based solution that streamlines deployment from start to finish.
Today, more than 1,300 companies including large enterprises and SMBs, and 40,000 users across the globe rely on Praxedo daily to optimize their field service operations. Our solution enables them to increase productivity, optimize resources, and facilitate seamless data exchanges between field personnel such as technicians and engineers, and their dispatchers.