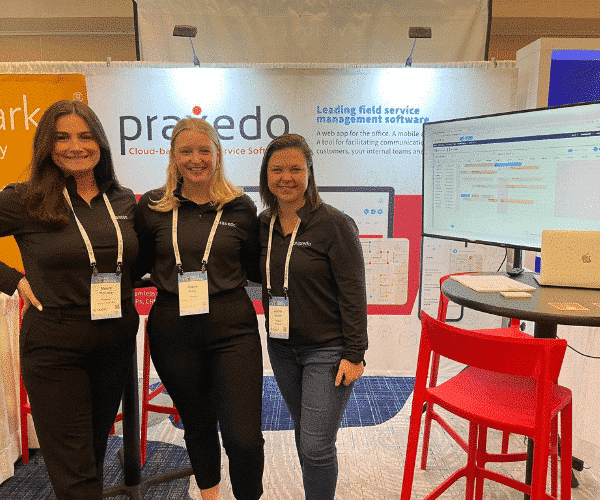 Software
Field Service Management
Technician
Key Learnings from Field Service Palm Springs 2023
Justine Arscott
Praxedo was pleased to sponsor and participate in the 20th anniversary of the Field Service USA conference held in Palm Springs last week, where we had the opportunity to introduce our value proposition and learn from US leaders in the field service industry as they look to reimagine the future of service. The packed agenda explored various strategies and tactics for service leaders to address challenges related to business growth and service optimization. These challenges included labor shortages, economic uncertainty, and evolving customer expectations. 
The conference covered a wide range of topics related to field service management, such as employee engagement, managing growth with capacity limitations, identifying and solving common service challenges, enabling future technicians and engineers, exploring the latest technology, and building effective strategies.
Among the various topics covered, a few significant takeaways and common themes emerged, highlighting the industry's focus and direction.
Reimagining the future workforce
The field service industry continues to face persistent workforce challenges. While the industry is expanding, the profession itself is declining, necessitating organizations to explore alternative approaches. The option of lengthy apprenticeship programs is no longer viable as companies seek to quickly onboard new hires. Additionally, certain field service professions are perceived as unappealing to younger generations, making it difficult to attract new talent. Conference discussions focused on reimagining the future workforce, which may include workers with IT skills who can efficiently execute tasks and keep up with evolving technologies.
Keeping pace with rapid innovation & AI
The demand for technology to meet scalability and efficiency requirements has resulted in a need to upskill existing employees and train new hires. However, organizations are struggling to keep pace with the rapid innovation and implementation of AI. Additionally, data security governance and overcoming risk-averse leadership pose challenges to staying ahead of competitors. Solutions presented at the conference emphasized the importance of prioritizing business needs when selecting and implementing new technologies. Rather than chasing the latest trend, a focus on outcomes and user experience are crucial.
A deep dive session on ChatGPT in particular was well attended, and covered how technology has impacted field service, exploring the use of service analytics and generative AI. Generative AI has its pros such as faster response time, reduced operational costs, streamlined communication, improved customer satisfaction, and scalability, but also has its cons, such as limited understanding of context, privacy and security concerns, and the potential for incorrect information. The session also explored the potential applications of ChatGPT in field service, such as automated customer support, field tech assistance, and training & onboarding, and discussed KPIs that can be used to measure success in the field service industry. 
Not mentioned in the session but important to consider – taking a step by step approach to ensure you're implementing new technology successfully.  This begins with gathering & producing accurate data from the field before implementing AI/Data analytics models.  The value of accurate data in this process is critical.  As they say 'garbage in. garbage out.'
From there, it's important to focus on proper implementation, integration and continuous improvement when using new technologies in field service. 
Evolving customer expectations
As customer expectations continue to evolve at an accelerated pace, service providers are facing challenges in keeping up. To address this, companies need to embrace a culture of innovation that fosters agile thinking and quicker decision-making. While providers are working hard to improve their features and innovate, they must also focus on correlating those features and technologies to solving customer needs.
Suggestions for improvement centered on becoming more prescriptive around customer needs and understanding the seamless autonomous response that customers want right now. The service industry is in a great place to do this, with the ability to access new capabilities and technologies and experiment. Advice focused on using tools at the right price point to test and learn. The most important point for field service teams to remember is to have a clear vision and understand how the tools you use are solving your customers' pain points.
The main challenge in customer experience after-sales lies at the intersection of promise, reality, and expectations. Field service plays a fundamental role in  the 'reality' aspect, being the closest interaction with customers. 
To enhance customer experience, field service teams must:
 

Create continued value delivery

 

Create opportunities for upsell and new business (cross sell)

 

Go far beyond the call center

 

Use technology to enable value

 

Evolve like the customers evolve
Seamless lifecycle management for optimized customer experience
To enhance the overall customer experience, it is important to consider seamless lifecycle management strategies. A key component of this is to establish connections between internal teams, particularly between service teams and product design. The conference showcased several positive case studies that highlighted ways in which internal teams could improve communication. By positioning service teams as crucial sources of unique customer insights, organizations can optimize existing products and services to better align with customer needs.
In summary, the Field Service USA conference in Palm Springs brought together leaders in the field service industry to explore strategies and tactics for addressing challenges related to business growth and service optimization. The event highlighted the need to reimagine the future workforce, keep pace with rapid innovation and AI, and meet evolving customer expectations. Suggestions for improvement centered on becoming more prescriptive around customer needs, using technology to enable value, and establishing connections between internal teams for seamless lifecycle management. By implementing these takeaways, field service teams can enhance customer experience, optimize existing products and services, and better align with customer needs.
We are very grateful for the opportunity to attend Field Service Palm Springs 2023 and are already looking forward to the 2024 show.  
To discover the top 5 trends in 2023 for the field service industry, read our latest blog 
Ready to implement field service management software? Get in touch with a member of our team for your own personalized demo