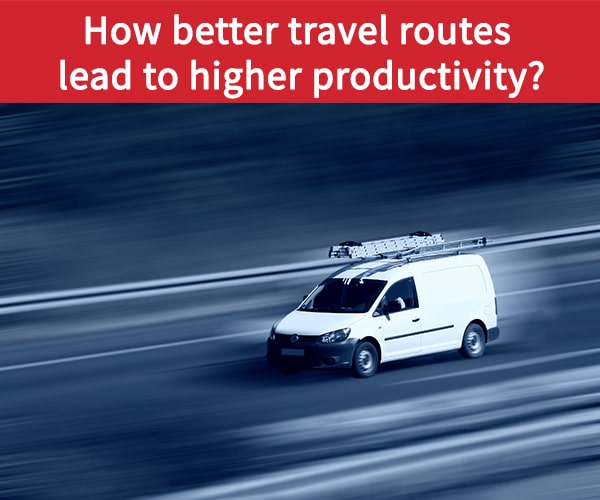 The Benefits of Travel Route Optimization for Field Service Companies.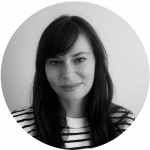 Tania Piunno
For many service companies, making sure that field technicians always take the most efficient route seems to be an unsolvable problem. There are just too many factors that are impossible to predict and control. But an increase in productivity is crucial for business success.
 
With the help of field service management software, service companies have new opportunities to improve their processes to optimize travel routes and increase productivity for their mobile workforce.
3 significant reasons to optimize travel routes
Asking your field teams to change the way they do things can be extremely difficult. To ease the transition, you might want to ask your field service management solution provider whether or not they offer a customer success manager to help oversee the evolution. Once you look past the initial time investment, you will quickly discover the countless ways to increase productivity and grow your business.
 
Happy, successful field teams are good for business
Poorly planned travel routes are just as hard on your employees as they are on your bottom line. Whether it's excessively long distances between customers, mixed up appointment times, delays or unsolved problems that frustrate customers, annoyances like these hinder your teams' ability to work efficiently. And, they diminish morale.
 
The truth is, the quality of the relationship you develop with your employees is directly reflected in your customer relationships. Mobile teams that are in direct contact with customers every day are the first ones to notice the connection between the two.
 
However, when you improve travel routes for your technicians, inspectors and auditors, their work lives become easier and more enjoyable. They avoid unnecessary travel. Their schedules are optimized for efficiency. And, they have access to all of the information and skills needed for smooth and successful service delivery. You're essentially giving them the means to deliver the best possible level of service to your customers.
Better service increases customer loyalty and satisfaction
When your company operates smoothly and efficiently, customers notice. Customer satisfaction is considered one of the top metrics for any company that delivers any service in any industry. The quality of service delivery determines the relationship customers have with your company — whether they are loyal, or whether they decide to move on with somebody else.
 
Nevertheless, optimizing travel routes is not just about successfully resolving customer pain points. More efficient routes help your business become more responsive so you can meet contractual commitments. With field service management software, you can have complete control over whether technicians arrive on time, and if customers are informed about the status of a job.
Efficient service management saves money
Improving your first-time fix rate is not just about increasing customer satisfaction. It also boosts productivity. A study conducted by Aberdeen Group indicates that if a problem is not resolved during the first visit, an average of 1.5 additional service calls are required to fix the problem.
 
Depending on the industry you're in, the cost of resolving an issue can balloon from several hundred dollars to several thousand dollars. Software that helps you keep your operations running at optimal efficiency can also help you keep costs under control.
Paperless processes are key to boosting productivity
Moving toward business activities that are 100% paperless is the best way for service companies to improve productivity immediately. An interesting study by Xerox shows 46% of time is wasted managing paper-intensive processes. For service companies, it is the mobility aspect that makes all the difference.
Leaving the paper behind
Paper-based administrative tasks are one of the most time-consuming tasks that really slow a business down. A Software-as-a-Service (SaaS) solution, such as the one offered by Praxedo, dramatically lightens the load on your team. Each team member has access to all of the information they need on any device, from laptops to smartphones.
 
The shift to paperless processes brings multiple benefits. Costs are far lower compared to printing on paper, not to mention the labor required to manage all of this physical data. You can also avoid loss of critical information and other mishaps that can result in duplicate copies of the same document. Instead, information is shared in real-time and is always accessible to those who need it.
New visibility into field operations
While it may not be obvious at first, using field service management software to move away from the paper-based management of travel routes gives you the visibility needed to be more productive.
 
Gone are the days when double carbon forms are forgotten in the truck or lost between trips. When dispatchers open the web version of the Praxedo management solution, they can see every technician's schedule in one place. When technicians have GPS capabilities on their mobile devices, dispatchers know exactly where they are and when, and can verify timestamps to ensure that service calls are occurring on schedule.
 
You'll gain valuable insight into field productivity so you can maximize the number of service calls each technician is assigned. You'll also be able to see where objectives could not be achieved and adapt your processes accordingly.
How to select the right field service management software
More and more companies are recognizing that SaaS solutions are needed to increase efficiency and save money. While there are a number of SaaS field service management solutions out there that optimize travel routes, we recommend looking for those with the following features:
 
While there are a number of SaaS field service management solutions that can help you optimize travel routes, those with the features described below are best able to help you increase productivity.
 
Optimization of schedules through artificial intelligence (AI)
Artificial intelligence is becoming increasingly essential in every industry and field service management is no exception. For example, with features such as the Smart Scheduler from Praxedo, algorithms select the ideal travel route for the technician, taking factors into consideration such as business requirements, location and traffic.
 
In addition to more intelligent scheduling, innovative service management software also allows you to develop schedules for regular maintenance tasks to help avoid equipment failures. Preventing breakdowns helps to increase productivity and improve customer relationships.
 
Integration with existing enterprise systems
The ideal route optimization software fully integrates with your enterprise resource planning (ERP) and customer relationship management (CRM) solutions so you can take advantage of paperless processes and automated information sharing.
 
As a field service business, you want to look for software that integrates smoothly with commonly used applications such as Salesforce.com, Microsoft Dynamics and SAP. This allows data to flow easily from one application to another. With automated workflows, field teams and customers enjoy better interactions. In addition, you can improve the customer experience by automating administrative tasks such as creating and sending invoices.
Easy-to-use mobile application
Software that supports mobility is essential to ensure that everyone in your organization has access to the latest service routes and schedules at any time, and from any device.