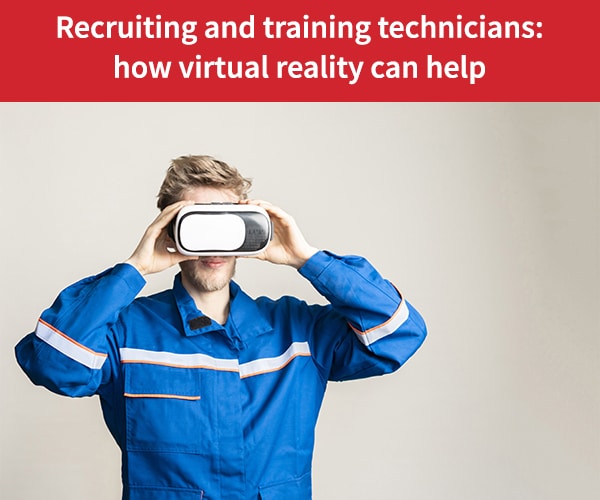 Productivity
Technician
Maintenance
Technology
Using virtual reality to recruit and train service technicians
Xavier Biseul
With virtual reality, you can immerse job candidates in their future work environment to better assess their ability to fill the position. And, you can use the same technology to train technicians to complete service tasks.
Better assess technical know-how
When interviewing a job candidate, it's key to ensure they're well suited to the position. While there are all kinds of personality tests that can help you determine a candidate's behavioral and "soft" skills — independence, initiative, teamwork, responsiveness, self-discipline — evaluating "hard" skills is often more complex.
 
Diplomas and certifications demonstrate academic skills. And, a short questionnaire or test can be used to validate candidates' knowledge. But, the technical know-how that enables technicians to apply "tricks of the trade" in the field can only be evaluated through demonstrations.
 
Realistic job simulation
In these types of demonstrations, technicians show how they would perform specific job tasks to prove they have the skills and know-how for the position.
 
However, executing these simulations is not always possible because creating the appropriate scenarios can be too complex, dangerous, or expensive. You can't just stop an industrial production line to run recruiting tests, or drop candidates into the heart of a sensitive site, such as a nuclear power station.
 
This is where new technologies come into the picture — especially virtual reality. With realistic job simulations, candidates can be immersed into a universe that reproduces the work environment they're hoping to occupy.
 
With a virtual reality helmet, candidates can step into the shoes of on-site technicians and demonstrate how they would complete tasks within the given timeframe. Recruiters can then assess their dexterity, analytical capabilities, and physiological reactions such as stress and anxiety.
Evaluate technicians in extreme conditions
To really evaluate a candidate's ability to deal with stress, virtual reality can also be used to plunge candidates into extreme situations that are difficult to reproduce in the real world. For example, junior maintenance technicians will have to work at night, without external light sources, and in severe weather conditions such as snow storms.
 
Identify people with fear of heights
French virtual reality company, UniVR Studio, has developed a simulation experience for the temporary employment company, Randstad, to determine whether construction worker candidates are comfortable working at high heights. As the company's associated general manager points out in a blog post, the immersion experience is so real for participants, it's impossible for them to hide the fact they're not comfortable regularly working at high heights.
 
Virtual reality also helps ensure technicians follow safety instructions. For example, in a factory scenario, technicians can be virtually hit by a forklift if they don't look both ways before crossing aisles on the factory floor.
Avoid hiring errors
It's clear that realistic job simulation has a lot of advantages. Employers can supplement personality tests and other evaluation techniques with real-world tests to ensure candidates have the skills they claim to have.
 
The technology also gives job candidates a very concrete idea of the demands of the position. Once they've seen their potential future, some candidates may decide this is not the right job for them. This helps employers avoid hiring errors. It also helps them save the costs associated with salaries, recruitment, and new employee orientation as well as the productivity losses the job vacancy creates.
Use technology to counter stereotypes
Virtual reality can also help businesses that suffer from skills shortages. This is particularly true in industrial environments that struggle to recruit workers with certain profiles because they're perceived to be old fashioned.
 
Virtual reality gives these companies a modern image that's far from the stereotypical clichés that have typically been associated with industrial workplaces. Today's factories are clean, silent, safe and high-tech — nothing like the harsh conditions described in bleak novels set in factories of yesteryear.
 
To counter these stereotypes, recruiters can take virtual reality helmets to job fairs and colleges to prove to students and young graduates that technology is now a reality in their chosen trade. The virtual reality helmet becomes a key tool in the employer's branding strategy and is particularly useful for attracting and retaining Generation Y, and even Generation Z, which is a particularly hard sell.
 
Candidates like the new recruiting method
According to a recent study by recruiting firm, Robert Walters, candidates are in favor of this new recruiting method. While only 4% of the companies surveyed used virtual reality technology, 72% of candidates who have had the experience appreciated it. Of candidates who have never used this type of tool, one in three would like to. This figure rises to almost 40% among those under age 30.
 
Virtual reality is also useful in HR. For example, recruiters can use the technology to virtually visit company locations in a much better way than watching a video, even a 360° video.
Use endless repetition to train staff
Not surprisingly, virtual reality is also ideal for training maintenance technicians. Technicians can practice the actions they will need to take and infinitely repeat them so they can make mistakes with no fear of dangerous consequences.
 
Virtual learning is particularly useful before technicians are sent to work at sensitive or difficult-to-access sites such as nuclear power plants, oil refineries and offshore oil platforms.
 
Since 2016, French natural gas transmission operator, GRTgaz, has used an interactive immersion solution that reproduces one of its industrial gas delivery facilities to train technicians. Technicians can manipulate valves and other control equipment to learn the right gestures and reflexes. According to GRTgaz, the application recreates industrial tools and enables simulation of seldom-performed tasks without affecting the continuity or safety of the gas works.
 
French electricity operator, RTE, uses augmented reality to train technicians working on surge protectors and other sensitive electrical equipment that protects the network from sudden increases in power.
 
Raise awareness of accident risks
Finally, virtual reality makes technicians more aware of the potential for workplace accidents. And, it can help them reduce musculoskeletal disorders (MSDs) by adopting the right movements.